About this Blog… about Tending Joy
Thank you so much for visiting my website and exploring all that I have to offer here.  I love feeling connected to something larger than my little self.  Don't you?   I aim for this, not to transcend my daily life, but to breathe more meaning into it.   I hope for a life in which my soul might stretch out in communion with the World Soul, and yet not leave my life in the body behind. I long to feel a deep awareness of Grace- an intimacy with Love and Life itself…. And I long for my daughters to live in a healthy and inspired world. This longing feeds my work.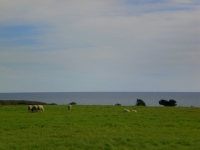 I live on the island of Martha's Vineyard- a place of radiant peace and natural beauty.  I hope you'll visit some day.  I have many visions and dreams for retreats and gatherings… coming soon!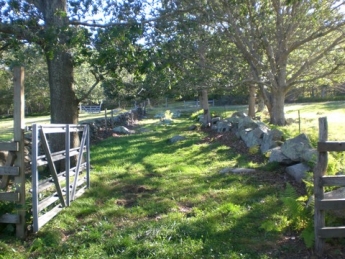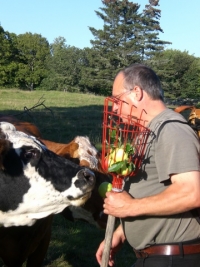 My husband Jonah and I were college sweethearts, and have been married for over 25 years. We have two daughters whom we adore: Rose who is now in college, and Bella who is a beautiful teen. In 2000, we built a house in the woods behind the old farm which has been in my family for over sixty years. My parents still live there today. Jonah and I have planted fruit trees and a garden, and sense that with enough elbow grease and the proper attitude we could create a heaven here on earth. It has been our shared desire to cultivate a home of creativity, love, humor, wisdom and compassion.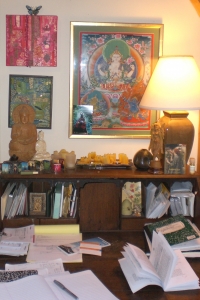 I feel blessed to share my passion for beauty and my reverence for the sacred. Over the years I've created dozens of books and gifts for heart-centered, contemplative living. Each offers encouragement and support for coming into loving alliance with the soul, and with the life-giving energy of the universe~ that energy which holds, nourishes and inspires us all.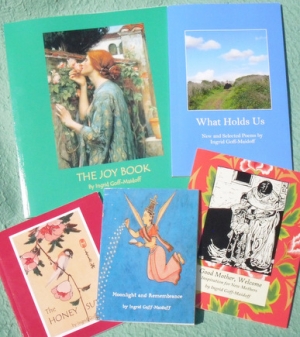 My books of poetry reflect the dance of intimacy I enjoy with my own life, and many of my poems are used at weddings, retreats, yoga classes and memorial services, as well as  published in various gift anthologies.  It is through writing poetry, blessings and prayers that I connect the visible with the invisible. There is a rich alchemy there ~ a sensuous bridge to the Infinite. It's a reaching for the mystical, mythical, divine essence which is absolutely there although often disregarded. At times the spaces in poetry are my essential attraction: they are there for all that cannot be said; for all that remains unsaid; for allowing mystery to speak for itself.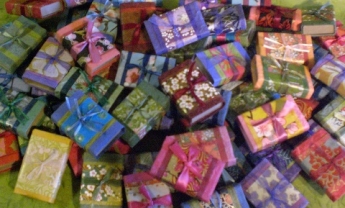 I create the books of quotations and inspiration decks as aids for centering reflection and for tuning one's thoughts throughout the day. Many of us hunger for words that breathe awareness of the sacred into our everyday moments. I know I do. And I think that the world is hungry for beautiful and soulful things ~ things that vibrate with loving energy, artfully made by artisans who have taken the time to pour good energy and, yes, love and light into them.
I hope you enjoy visiting my website, and that we meet in person one day. 
 I created the Tending Joy Blog as a beautiful place to visit and converse, and to enjoy the unfolding invitation to discover, each for ourselves, the many ways we may live in love by cultivating intimacy with our lives, our essence, with each other and the world.  Thank you so much for joining me here!  I'll share poems, links, photos,  discoveries- anything that might open the heart, light the soul,  inspire joy…
I hung out a sign which read, "Tending Joy"…
Perhaps this has happened to you: when my daughters were very young, I found myself in a game of tug-of-war between all that I loved and longed to do.  If I was with the children, I found myself feeling as if I was neglecting my business… while working, I wondered constantly about the children.  Cleaning the house, I felt I should be working, and while in the studio I seemed to be allowing the dust to gather and clump at home.  I felt as if I stood to fail someone or something no matter where I was. 
I could have hung out a sign with the Chinese proverb, "There is chaos under the heavens: the situation is excellent,"  and this would have been true.  Instead, I hung out a sign over my book arts, gifts and poetry business, which simply said, "Tending Joy."  I wanted this to be the umbrella under which every piece of my life existed- rather than the push-me, pull-you juggling act that it felt it had become.  I wanted to lean into the essence of joy at the heart of childhood, marriage, business, home, my life, spirit, and the world.
     By hanging out a sign that said, "Tending Joy," I was hoping to invoke a kind of grace that would hold all things.  Joy, for me, was a code-word for the eternal, spiritual dimension of our lives- all of the invisible yet apparent energies like love, compassion, generosity, gratitude- and all the unnamable mysteries like God.  I put them all into the container of joy- as both a presence, a practice, and a felt experience.   I wanted to give my life in devotion to this- to tune my heart, mind and attention to cultivating and exploring this joy.  
We tend our gardens.  We tend the fires of the hearth… we tend to each other.  To tend means to give attention to or to lean toward… I liked that.  
     This is what I've learned so far: Joy is a kind of grace: a loving relationship with living- with your soul, the world, the world-soul.  This is a relationship which can be cultivated and grown-  an intimacy with the ins and outs of your life;  it's a conversation, a call and response, a deep and energetic feeling of love and belonging. I've also discovered that many of us have a resistance to joy- although this is actually a resistance to our judgments about joy.  In a world of turmoil, we feel we don't deserve it.  And, deeper still, we worry that joy is one more charismatic attribute we need to put on like a costume, or exude like a sexy magnetism- one more game we have to play, or one more table we have to dance on.  No wonder we find the idea of joy or joyful living daunting or exhausting, selfish or silly. But that is not the kind of joy I have given my life in service and devotion to. 
The joy I've been exploring is so much bigger, wider, and subtler than our more superficial assumptions- quieter even, and more nourishing and sustaining.  This joy is a fundamental possession that resides in the heart and longs to be uncovered rather than put on.  It is the spaciousness of our unanswered questions, rather than anything we could ever achieve or acquire.  It is the joy we experience when we shed our assumptions, our self-images, our prejudices and our pride- it is the joy that is the essence of our being.  This joy is felt when we live in, for, and from love.  If we have wandered from it, as most of us do many times a day, then joy is felt when we return to our loving center.
     I know there is the joy of cooking, the joy of crafting, the joy of creating a beautiful lifestyle…but what I've found is that there is also an even greater joy- the joy which surrounds, infuses, and contains all of these things. 
In love and friendship, Ingrid Goff-Maidoff
…Joy is a multifaceted jewel~ a rich landscape to explore.  Joy is oneness.  Joy is love.  Joy is sensual, and sacred. Joy is all around us, and at the center of our being. Joy is a wise and felt awareness of love and belonging which infuses our whole life~ feeding our passion, creativity, and participation in the world.