>
Back
Savor the Days ~$12.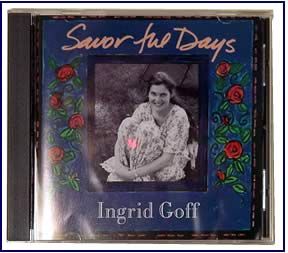 SOLD OUT
Before moving to Martha's Vineyard to live a peaceful family life, Ingrid was invited to sing her songs from New York's Folk City to Hollywood's Star Search... (yee gads, it's true!)

Savor the Days is a soothing, transporting and refreshing album. With nine originals and one cover, a Sarah Teasdale poem called "Life has loveliness to sell," this album is some of that loveliness. Recorded on Martha's Vineyard with the support of talented musicians David Steinberg, Nancy Jephcote and Jim Parr, this album is a timeless classic you'll listen to again and again.
Retail Price: CD $12.00
"I bought your album many years ago when I was going through a very difficult time. It is the one thing that kept me going. Keep up the good work." ~M.A.A

Songs on the Savor The Days Album:
Savor The Days
Sweet
The Infinite
Bird on a Bough
Life has Loveliness to Sell
I Symphony You
On Closer Look
Magic Dress
The Scarf
The Proposal
---