>
Back
SIMPLE GRACES FOR EVERY MEAL ~$20. handmade,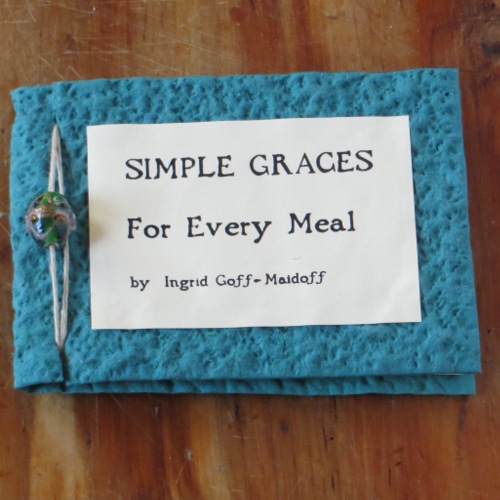 Simple Graces for Every Meal ~ $15, handmade
A hand-bound book of prayers, invocations and graces written by Ingrid Goff-Maidoff, with hope to restore ease and simplicity to the act of giving thanks. These are universal, multi-faith dinner prayers that you can feel comfortable giving for any occasion – at a family event, wedding, holiday, church dinner, scouts or an evening in your own home.
Ingrid notes: "When I wrote these graces, I could hardly imagine selling well over two thousand copies. All I knew was that I wanted a book of comfortable graces - graces safe for mixed company - no matter what one's religious (or non-religious) background. Now in its Fifth printing, this book continues to delight those who discover it. People come up to me at every craft show to share how important it's been to them. The other day, a woman told me that her father always cries when he reads from Simple Graces. She said, "he is 6' 6", and this is a marvel to see."
Now as Volume 3 with additional graces.
Let us savor our days
as we savor this meal.
Let us linger to enjoy
the bounty of each season.
Let us live to declare
we find life itself delicious.
~
If we partake of the meal now before us
with reverent and grateful hearts,
not only will our bodies be sustained
but our souls also.
~~~~
Let the depth of our compassion
nourish all we meet
just as the bounty at this table
nourishes us.
~~~~~~~~~~~~~~
In our highest hopes
we see that the world is
one great family:
where it is possible that none go hungry,
where it is possible that justice, love, and health abound,
where it is possible that we may
never question our oneness.
15 pages, 3" x 5 "
---
"I gave the simple graces to a best friend and she said she cried a couple of the verses were so beautiful to her.Thank you for making such beautiful pieces."~A.M.C
"I have three sons and they always take turns reading from the book (and they know which ones are the 2 liners!). We have a family tradition that we always eat by candlelight and always say grace from your book. We always hold hands at the table but recently when I had a large dinner party we stopped everyone before serving to read a grace from your book telling them of our traditions. Everyone loved it and many came to look at it." A.D.