>
Back
GOOD MOTHER WELCOME, inspiring words for new moms ~14.00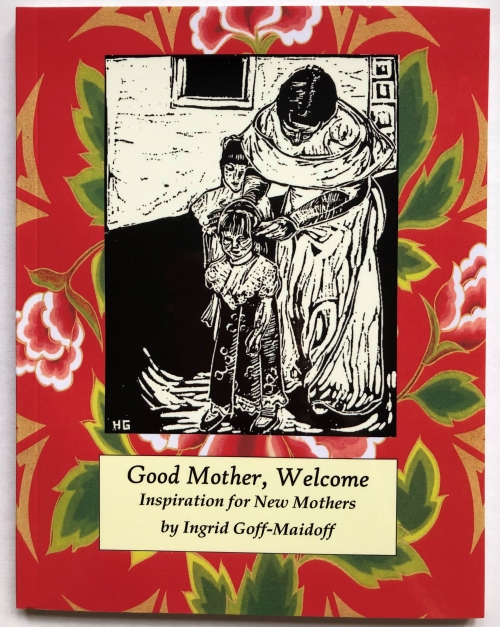 This is a wise book of loving comfort and gentle reassurance created to support a new mother in maintaining her sense of wholeness while embracing the overwhelming and joyful experience of a love deeper and wider than anything she has ever known.
"A friend gave me Good Mother Welcome when my daughter was born. It had a profound effect on me. I never knew anyone could make something so beautiful." ~A.S
The perfect gift for a new mom...a tired mother...anyone longing to feel reassured of the sacred and spiritual dimensions of mothering.
One of our bestsellers, we often receive requests from women who received Good Mother, Welcome as a gift and were so inspired that they ordered a handful more to pass along to mothers in their community. One woman recently wrote, "I felt the transformative power of your book and truly feel welcomed into the sacred circle of motherhood. For this, I thank you."
"Ingrid sent this to me when Ostara was still a wee babe.
It was another one I sobbed over, creased up, and clutched to my heart.
It's a love letter from the world to mothers.
Tremendously reassuring, loving, kind and soft.
Just what we need.
I can see why this book gets bought in the dozens to be sent as gifts to new mamas. It is truly remarkable." ~Leonie Dawson

Written by Ingrid Goff-Maidoff with breathtaking linoleum-cut illustrations by her sister, Heather Goff, for a perfect combination of words and imagery.

ISBN 1-886631-00-X now in its 4th edition! 80 Pages, 5 1/2 by 7, $14.00

See below for excerpts.



---
As mothers
we pray
for a world of peace.
We pray for a world of joy.
We pray for the nourishment
and safety of our children.
We pray for wonder, enthusiasm,
goodness and truth,
for compassion, love and kindness…
We pray for discipline.
We pray for maturity.
We pray for courage and strength.
And we give thanks.
The way we live is the way we give thanks.
Our life is a dance of prayer and thanksgiving.
~~~
"I have given this book as a new baby gift for many years. It is the most heart-warming and loving statement on motherhood...thank you for sharing your thoughts in words." ~Trudy Berman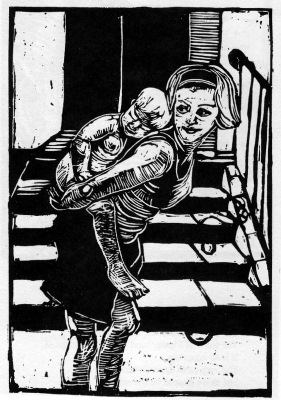 Honor your child.
Teach by example: honor yourself.
Encourage your child's life-enthusiasm,
his curiosity and self love.
Guide your child to a high estimation of herself.
Children who like themselves
make self preserving choices.
Children who feel loveable and worthwhile
make life affirming choices.
You are the model and the mirror.
If you want your child to enjoy life's adventure,
you must enjoy it yourself.
If you feel drained,
nurture yourself,
make space for yourself,
express yourself.
Do things that make you happy,
make you satisfied, give you joy.
Surround yourself with people who
encourage you, who honor you,
who help you feel loveable and worthy.
Our children are our future:
our future visionaries, leaders and healers.
The work of Motherhood cannot be measured.
It is so important.
The very earth depends on it,
just as we depend on the earth.
~~~~~
Although you are a mother now,
you still remain
the heroine of your own story.
There is a light inside you
that is yours to give the world.
There is a purpose
that is yours.
As a mother you are learning
patience, surrender, submission,
kindness, compassion,
the art of nurturing and love.
You are learning to lose yourself.
And still there is something more
that is you,
that is your individual gift to the world.
To keep your light burning,
to spark the light in others,
that is the challenge.
How to lose yourself
and yet be true to yourself,
to your own destiny~
no simple paradox:
the beautiful riddle of Motherhood.
~~~~~~~~~~~~~~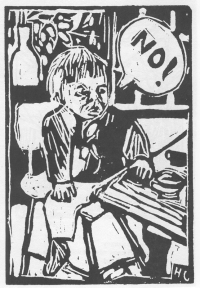 All will be tested:
your endurance, your limits,
your humor, patience, love…
There will be dark times.
Remind yourself gently,
"this too shall pass."
For greatest peace of mind,
choose to be where you are now.
Choose to be doing what you are doing now.
Accept the responsibilities that come
with the mothering season.
Embrace your journey with a heartfelt "Yes."
Acknowledge the people you share the journey with~
your children, your partner,
friends who honor and support you.
Commitment to these elements of life
brings clarity, strength, satisfaction,
and peace of mind.
Enjoy the journey.
You can't know where it will take you
or how it will end.
~
This beautiful book contains a heartfelt welcome to new mothers, giving voice to the poetic and sacred elements of the journey of motherhood. But don't stop there – all mothers need the affirmations of their choices and both the joys and difficulties of their days.