>
Back
WHAT HOLDS US, New and Selected Poems ~$14, e-book $7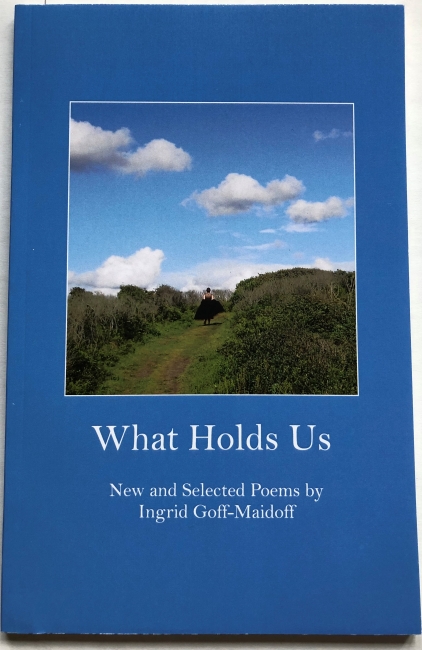 "Ingrid Goff-Maidoff's latest book of poems, What Holds Us, is a collection of verse you will treasure. You will find yourself re-reading these poems over and over, when her wisdom needs to find you."
~ Cristina Raskopf Norcross
The poetry of Ingrid Goff-Maidoff celebrates a deep and vibrant intimacy with nature, lover, family, daily living and the world. These are soul nourishing, spiritually centering poems that will both open and strengthen the reader's heart. What Holds Us contains new works as well as the best loved poems from the limited edition chapbooks, Calling Forth The Riches, and Conversing With The Holy. 80 pages, paperback.
"I keep going back to the poems in What Holds Us; one delicious poem after another. So glad you're out there doing what you do. " ~D.C.

Signed paperback
NOW In E-BOOK FORMAT- a beautiful pdf download of poetry and photographs. $7

e-book
---
ONE THOUSAND EVENINGS MORE
What if we had
one thousand evenings more
to step into
like a small boat
waiting at the dock,
or a blank page
and the most exquisite pen in hand
to write the sun dipping hot flames
into the western sea,
the moon and stars rising,
and not have such words sound empty
like the straws on the broom as it sweeps
those last remnants of life
from the room we'll leave behind.
And what if we had
one thousand evenings more
to walk in the woods,
to share a glass of wine,
to ask our friends
from where their happiness comes…
…to reinvent ourselves as lovers,
forgetting all we've learned,
even all that we've forgotten?
HOPE
I hung hope out with the laundry,
clothes-pinned tenderly
beside a pillowcase and two sheets.
I could tell she needed air,
a sweet puff of wind.
She needed to get warm again
basking in the sun.
After a few hours,
I came out with my basket
and took her down.
We both felt refreshed.
She said, "don't put me in the closet with the sheets.
Spread me on your table.
Let your guests spill their wine and crumbs of bread.
Wash me gently, put me back in the sun.
Lay me across your bed,
so I may warm you in the night.
Or put me on the children's bed,
that I might comfort their dreams.
Whatever you do," she said,
"include me.
It is the only way that I can live."
~Ingrid Goff-Maidoff