>
Back
MOONLIGHT & REMEMBRANCE ~ mystic love poems ~ $12.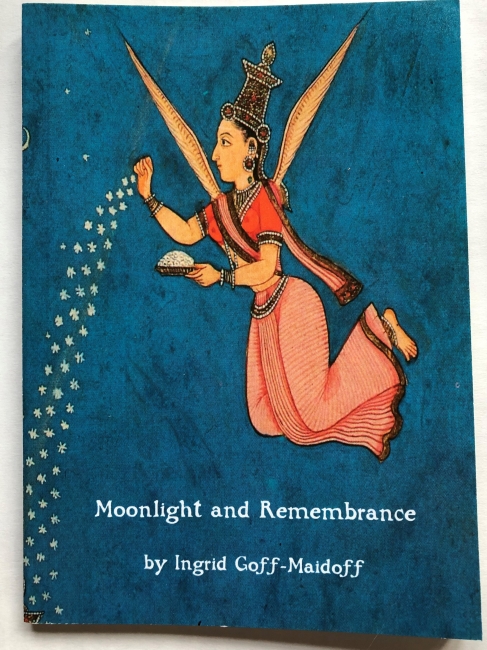 "This book brings me to ecstatic tears every time I open it up. Ingrid expresses the inexpressible by pointing out the infinite beauty, the outrageous love that is right under our noses. She reminds me to love life like the precious gift that it is. Truly nourishing to the soul." ~Sama Morningstar
From the Introduction of Moonlight and Remembrance
The moon is a luminous symbol both of feminine mystery and of the
light of our awareness that there is a loving energetic Presence which is
always with us, seen or unseen, in promise or in fullness, or perhaps only
slightly hidden by a few inner clouds. Remembrance is how we live in
intimacy with this Presence, and how we allow its mystery to live through us.
When I find myself in remembrance- the spacious awareness of a wider, more
infinite aliveness ~ the experience feels very sensual. It is as if I am the Divine
Feminine being taken by the loving energy of the Universe. I feel it in my heart
and in my whole body. The sense of union floods and infuses me, filling me with
peaceful joy. It is not an end, but a state of being – a warm and light openness
that I carry inside.
The impulse to address or describe this awareness often expresses itself in
love poems. "Lord of my heart," I join the mystics in saying, "Wherever I go,
there you are." It is a beautiful kind ofcourtship ~ as if between the heart of
the world and my own heart- a loving and beloved intimacy. I sense it is this
way for many of us: the union is always there, although sometimes we forgetů
If only for a moment of remembrance and renewal, that's why I write these poems.
~
These poems have been compared to the works of Lalla, Rumi, and Rabindranath Tagore. They are spirited, playful, and fully in love with the Beloved. If you enjoy the intoxicating inspiration of mystic love poems, you will find these transporting and delightful. Trade Paper, 62 pages 4 1/2 by 6 ". Signed by Ingrid. $12.00
People ask me
why I am smiling...
...it's hard
to explain kissing
to those who've
yet to kiss.
See below for more sample poems.
"I LOVE LOVE LOVE YOUR BOOK MOONLIGHT AND REMEMBRANCE! i enjoyed it so much. I cried and smiled and was certain that you wrote it just for me. It is FULL of thoughts and feelings i have every day but alas have not a scrap of writing ability to portray them. The book is just beautiful, inspiring, and perfect. THANK YOU." ~W.K.P
"I feel the oneness when I read your books. I sat the other morning and wept in joy as I read Moonlight and Rememberance." ~ S.M.
---
SAMPLE POEMS
The jasmine is blooming.
Its sweet fragrance stuns
the whirling of my worries.
I stand stilled, emptied, delighting,
breathing deeply in.
You. It's You.
You are the one who does this.
~
Today I dressed
in flowing silks
for You.
I perfumed my hair
and put bangles
on my wrists.
And why not?
My husband's eyes
were twinkling
with desire.
Should it be
otherwise?
Is he not
an embodiment
of You?
~
Beloved One,
I go to the market to find you,
perhaps in a colorful pillow
or a dress, perhaps in an apricot
or a new flavor of tea.
I wander the shops and alleyways,
calming my desire
in the happiness of my searching.
I know You love it when I do this~
when I forget that You have come with me.
Through my fingers You touch the apricot,
through my nose You smell the tea.
Yes, You say, Oh yes,
How delicious,
sweet darling, Let's buy it.
I settle on bunches of flowers.
All the way home it's palpable:
the holy tenderness
of Your embrace.
~
Love, I'm so tired
of keeping my cards
close to my chest~
pretending I hold
the Queen of Spades,
the Ace of sorrow;
pretending to be normal.
Look, let me show you
the contents of my hand:
two dancing Jokers,
the Jack of Diamonds,
and the entire suit of hearts.
~Ingrid Goff-Maidoff
copyright 2011, all rights reserved