>
Back
IF I WERE A FAIRY, tiny treasure book ~$25.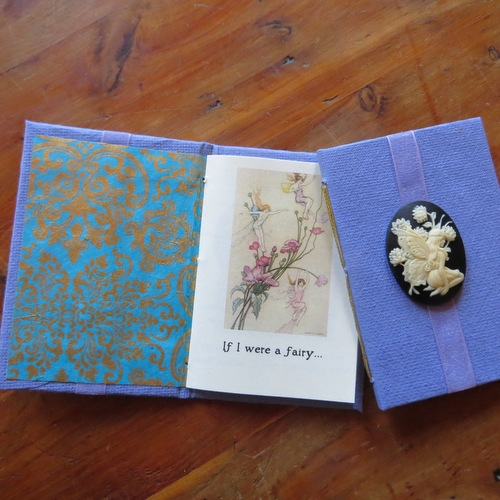 This palm sized book contains a sweet musing to give wings to the reader's imagination. This miniature treasure is handsewn with gold thread, and has a fairy cameo on the front. Hard cover, 2 3/4 inches by 3 3/4 inches, 12 pages. Written by Ingrid Goff-Maidoff with beloved classic fairy illustrations.
---
If I were a fairy…
I'd live in a summer garden with a lovely ocean view.
I'd drink honeysuckle nectar, and bathe in the morning dew.
I'd make as many memories as stars alight the sky.
I'd laugh when I was happy, and cry if I wanted to cry.
I'd ride on gentle breezes and flit from there to here.
And in winter when it freezes, I'd find a house of cheer
where children live and play and spill their sweet crumbs on the floor.
I'd build a nest beneath a bed, in a dolls house, or a drawer.
I'd be happy with those children, and peaceful on my own.
I'd be joyful all the seasons, and in love my whole life long.
~Ingrid Goff-Maidoff