>
Back
Joy Book of Quotations ~$12.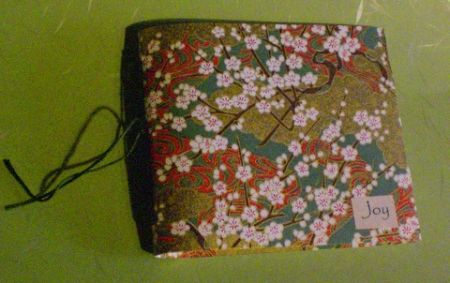 This collection of inspirations focuses on our intimate and energetic partnership with Life, a partnership from which the deepest and most lasting joy is born. May the passages in this book bring light to your soul, honey to your heart, warmth to all of your relationships, and deep affirming joy.
60 pages of quotations, handsewn with a Japanese paper cover. Signed by Ingrid.
---
Mystics, saints, poets, even puppies and small children all teach us that joy is the energetic substance of our lives. Far more than a happy emotion, joy is both a presence and a feeling. There is uncaused joy: the field, the force, the breath and the ground beneath us—surrounding, suffusing, and upholding every existence. In addition, there is the experience and expression of this uncaused joy. This is also understood as joy. How wonderful! ~Ingrid
Joy is the realization of the truth of our one-ness,
the oneness of our soul with the world,
and of the world-soul with Supreme Love.
~Rabindranath Tagore
There is a Joy that is at once exuberant and peaceful. Experiencing this Joy is akin to floating in an ocean of pure love, a love which buoys us up, both from beneath and from within. It is finding oneself in the divine stream of reality, the strong arms of the Holy…. … Having known this Joy, we carry it with us as an interior richness, a warm light that lights in the soul. This joy tempers our days with a radiant peace, a cheerful optimism, and a personal sense of passion and purpose. ~Ingrid
I don't long for a simple life.
What I want is a life that feels full:
windswept, fragrant with You,
lit up and cluttered with Joy.
Come now, Holy Day,
come fill me up with gladness…
~Ingrid Goff-Maidoff
~
May your life be like a wildflower
growing freely in the beauty and joy
of each day.
~Indian proverb