>
Back
Hand-sewn THE ABUNDANCE OF GRACE ~ reflections & quotations ~$22.00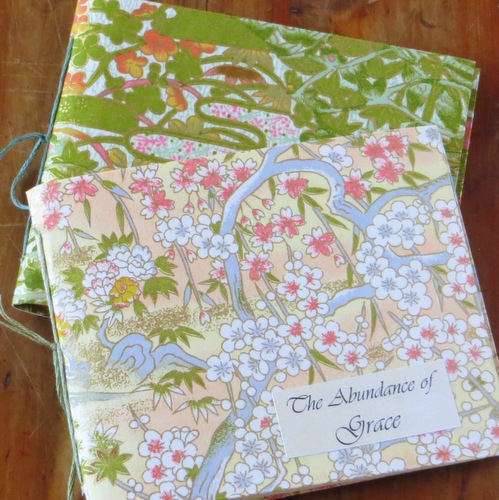 From the Introduction:
When we feel contended, we are living in grace. When we feel blessed, it is grace that blesses us. And when we despair, it is grace that gently holds us. Grace reaches through our loneliness to let us know that we are not alone. Like a shaft of light in the forest, grace may appear as an unmerited gift. We don't have to feel worthy of it. Without judgment or prejudice, grace is there for us all like air. Infinite, eternal, and holy, grace is a divine current which runs through all things...
Each little book contains 56 pages of inspiring passages to fill your heart with grace, handsewn with assorted Japanese paper covers.
---
SELECTIONS FROM THE ABUNDANCE OF GRACE
"I want…to borrow from the language of the saints…to live "in grace" as much of the time as possible. By "grace" I mean an inner harmony, essentially spiritual, which can be translated into outward harmony." ~Anne Morrow Lindbergh
The state of love is the state of grace. ~N. Sri Ram
What I have finally learned is that the prosperity I once longed for is not the acquisition of more things, but the radiant and joyful trust that every day I live within the great expanse of the Holy… the abundance I once sought rests securely in the Infinite that is always there. All I need to do is wake up to the full grace of Love's presence, cease my striving, let out a long sigh, and relax my grip…
~Ingrid Goff-Maidoff
Grace comes into the soul,
As the morning sun into the world;
First a dawning, then a light;
And at last the sun
In its full excellent brightness.
~Thomas Adams
Grace is given not because we have done good works,
But in order that we may be able to do them.
~Saint Augustine