>
Back
COURAGE ~ comforting quotations for difficult times ~$15.00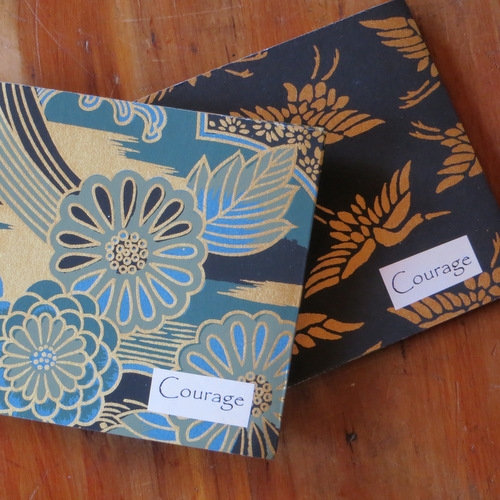 When a friend or loved one, or we ourselves, are facing difficult times, we long for an understanding of what to do or say, and find ourselves looking for words of comfort, hope and healing. This book was born from that longing. While the word courage often brings to mind warriors preparing for battle, a certain daily courage is required for us all to meet life's challenges.
The word courage comes from the French root, Cuer, meaning heart. To have courage is to have strength in the heart. Courage is a firmness of spirit that we all call upon from time to time: in sickness and in health, in loss or disappointment. These passages have been chosen to help you navigate your journey. It is my hope that you will find in them both comfort and light. You might even find a strength you didn't know you had.
~from the introduction by Ingrid Goff-Maidoff

Courage, a Book of Comfort for Trying Times, contains a vast selection of quotations and passages to strengthen the heart's resolve when facing life's many challenges.
4x4 inches, 60 pages, handsewn with a Japanese paper cover.
---
What we are really living for
is the experience of life,
both the pain and the pleasure.
~Joseph Campbell
Character cannot be developed in ease and quiet.
Only through experiences of trial and suffering
can the soul be strengthened, vision cleared,
ambition inspired and success achieved.
-Helen Keller
It is not length of life,
but depth of life that matters.
~Ralph Waldo Emerson
If you let yourself be absorbed completely,
if you surrender completely to the moments as they pass,
you live more richly in those moments.
~Anne Morrow Lindbergh