>
Back
~Joy, Light, Beautiful Wisdom ~$14.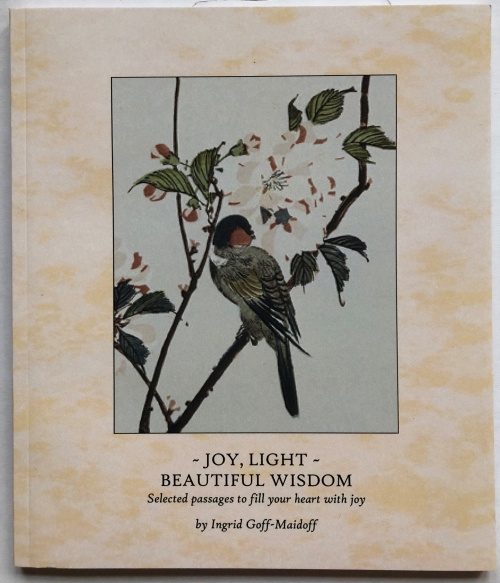 This is a new and revised edition, re-printed at the urging of a physical therapist who wanted ten copies for her clients who loved the one in her waiting room. I'd retired this book after making The Joy Book, but when I looked back at it, I realized it is still a lovely offering. She told me not to change a thing... but I couldn't help but add even more passages of joy, light and beauty.
Offering wisdom from throughout time and around the world, this beautiful collection of inspirations encourages an intimate and energetic partnership with Life, a partnership from which the most lasting joy is born. Enjoy these passages as they bring light to your soul, love to your heart, and an outlook on each day that is uplifted and inspired.
90 pages, 6 by 7 inches in paperback, or you can find the
limited edition handsewn hardcover here

Paper, 16.00
---
From the Introduction:
This collection of inspirations focuses on our intimate and energetic partnership with Life - a partnership from which the deepest and most lasting joy is born. Each is a sip of sweetness, as it is my passion to seek out and share the nectar found in every tradition. May they bring light to your soul, honey to your heart, warmth to all of your relationships, and deep affirming joy. ~Ingrid
SAMPLE PASSAGES:
"Joy is the realization of the truth of our one-ness,
the oneness of our soul with the world,
and of the world-soul with Supreme Love."
~Rabindranath Tagore
There is a Joy that is at once exuberant and peaceful. Experiencing this Joy is akin to floating in an ocean of pure love, a love which buoys us up, both from beneath and from within. It is finding oneself in the divine stream of reality, the strong arms of the Holy. Having known this Joy, we carry it with us as an interior richness, a warm light that lights in the soul. This joy tempers our days with a radiant peace, a cheerful optimism, and a personal sense of passion and purpose. ~Ingrid
The very purpose of our lives
is happiness and joyfulness.
That is very clear.
~ Dalai Lama
From within or from behind, a light shines through us upon things,
and makes us aware that we are nothing, but the light is all.
~Ralph Waldo Emerson