>
Back
Hope- Printed Card & Laundry themed Postcards~$3.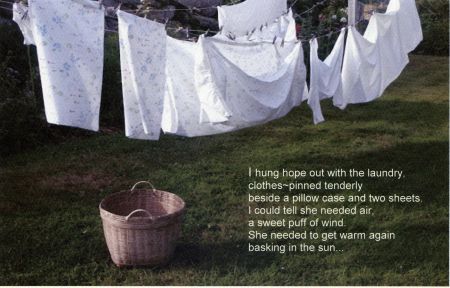 This card features my poem, "Hope," included fully on the back of the card. (See below for the full poem) The photograph was taken by my sister, Heather Goff- and the laundry is our mother Pam's, who still remembers how to savor the days. Mom's Laundry line also shows up on the post card "God spoke today in flowers." My own laundry is the cheery background for the poem from moonlight & remembrance, and I took the Italian laundry picture a couple summers ago. My soul just seems to delight in images of laundry.
Hope Card $3
3 Laundry Postcards $3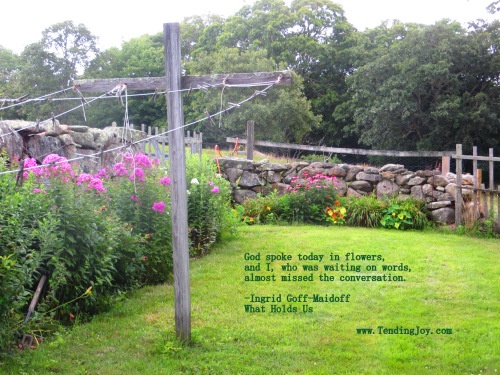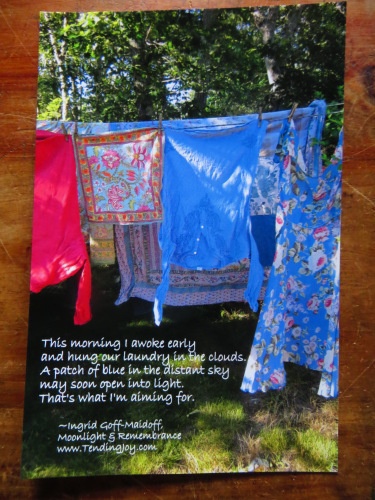 ---
I hung hope out with the laundry,
clothes-pinned tenderly
beside a pillowcase and two sheets.
I could tell she needed air,
a sweet puff of wind.
She needed to get warm again
basking in the sun.
After a few hours,
I came out with my basket
and took her down.
We both felt refreshed.
She said, "don't put me in the closet with the sheets.
Spread me on your table.
Let your guests spill their wine and crumbs of bread.
Wash me gently, put me back in the sun.
Lay me across your bed,
so I may warm you in the night.
Or put me on the children's bed,
that I might comfort their dreams.
Whatever you do," she said,
"include me.
It is the only way that I can live."
~Ingrid Goff-Maidoff
from the book, WHAT HOLDS US