>
Back
BREATHE ~ Miniature Accordion Book SOLD OUT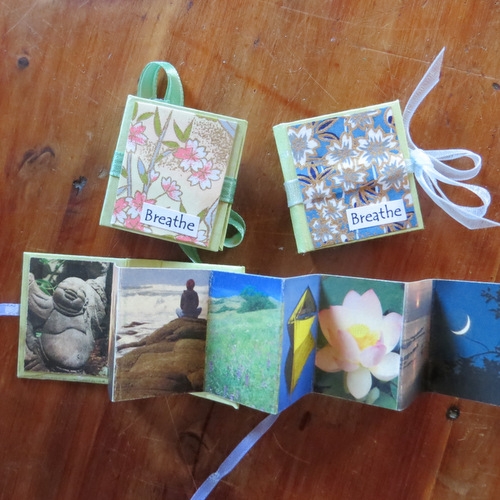 SOLD OUT
How often during your busy day could you use a reminder to simply take the time to breathe? Now you have the perfect pick-me-up inspirational gift for yourself, your friends and busy moms. The pictures in this tiny treasure bring smiles, while the reflection on the other side instills peace, love, joy and gratitude.
This handcrafted miniature accordion book folds to just one inch by an inch and a half. The cover is exquisite Japanese paper and it closes with a soft ribbon. This accordion book unfolds to reveal the reflection below, written by Ingrid, from her book The Honey Sutras. The other side is a series of beautiful color images.
This is a gift for your yoga class, a church retreat, a gathering of those women friends we can't make it without, a mother with teenagers or toddlers, or a just-because gift. And we all need those!
---
BREATHE
In the morning when you awake, breathe in peace, breathe out love...
Among friends and even strangers, breathe in peace, breathe out love...
In the afternoon, walking or sitting, breathe in love, breathe out joy...
In the evening before retiring, breathe in joy, breathe out thanks...
~excerpted from the Honey Sutras By Ingrid Goff-Maidoff,