Tending joy volume 07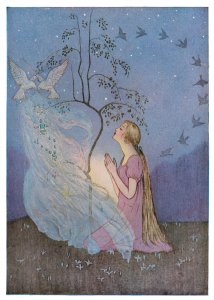 Ingrid's Blog
Autumn 2008

What if Joy was our essence:
joy, love, innocence,
harmony and bliss?
And what if we have forgotten this
and are instead living
with a mistaken
and impoverished identity?
How do we return to
the presence and practice of joy?
from the Joy Book by Ingrid Goff-Maidoff
As essential and ubiquitous as air, the presence of Joy
is boundless, eternal, without beginning, without end,
spacious, ever-new, ever-flowing, growth, the expanding universe, infinite energy, bliss emptiness, the fragrance of a marigold, the free fluttering of wings…
How are you, dear friends? Are you enjoying your days? Remembering to breathe? Finding rest, and ease, and beauty and Joy? I hope so!
I am very busy producing books and gifts for the holiday season. All in hopes of a few months for reflection this Winter. It's quite a task to hand-stitch, hand-make, hand-produce everything. But it feels right, and soulful- there's a magic in it, and heart, and an energy you just can't find in machine made things.
I received a lovely endorsment for The Joy Book the other day: a re-order!
"You do beautiful work. I ordered myself The Joy Book. it arrived yesterday and it is indeed a joy! so many thoughts and images. I am ordering another one for my daughter. would you please write a note to her when signing it. I am thankful to have discovered you and your work. thank you very much. --Martha "
Will LOVE LOVE LOVE make up for LOCATION LOCATION LOCATION? That's what 8 artisans are asking ourselves as we assemble a Gift Gallery for the holiday season. If you live on the Vineyard, please come visit us in the old Belushi Pisano Gallery in Vineyard Haven. We are open 10-6 every day, and are having an amazing raffle worth over a thousand dollars. We have each donated something of significant beauty. Tickets are only $5, or 3 for 10, and all proceeds will go to the Food Pantry. This is your chance to own work by Dan Waters, Beldan Radcliff, Nick Thayer, Diana Stewart, Kathy Tackeberry, Washington Ledesma, Jeri Danzig and ME!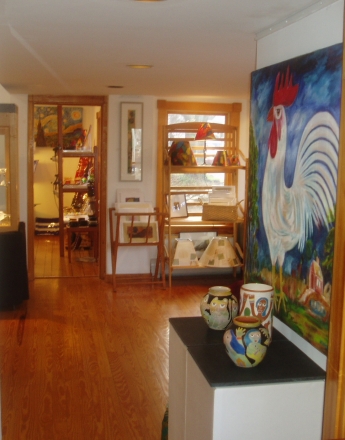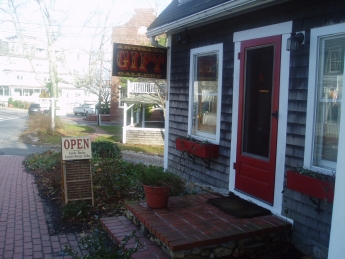 11-20-2008
SHE'S HERE!!!
Oh Friends, I couldn't be more pleased with this latest book.
For the Joy Book product page, click here
It swirls with inspiration and playful, joyful, beautiful art noveau illustrations.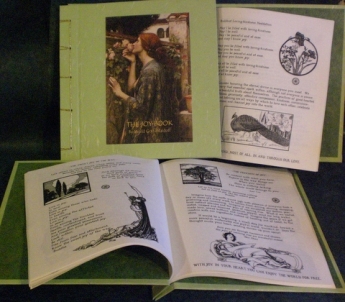 For all of you who have told me how you cozy up with my books for refreshment and reflection, and for all who have asked me to do a workshop- this one's for you. May it give you hours of deep nourishing Joy.
A FEW EXCERPTS:
How does Joy make itself known to us?
Through stillness and delight;
with kisses, sighs, candlelight and prayers;
through sensuous offerings,
dancing and feasts;
with symphonic sounds and savory spices;
intoxicating dreams, peaceful insights,
fragrance, color, wind;
with gifts, with love;
through silence and rejoicing;
with words and the
infinite space between them…
~
My hope is to remind you of this world -
this other world that you also live in.
Buddhists call it Boddhichita:
beneath all things exists the peace of love.
~Ingrid Goff-Maidoff, The Joy Book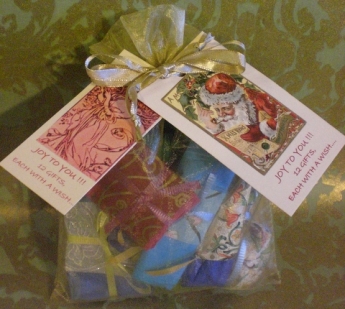 I've "SANTA-FIED" The Gift Bags with a sweet holiday label. Perfect for stocking stuffers, a holiday party, and as a stand-on-its-own gift. Wonderful for all ages.
~
I have been attending a Meditation and the Art of Living class taught by Elliot Dacher, M.D. here at the Martha's Vineyard Hospital. I've found it very inspiring, enriching, and reassuring. I think there will be another class offered in the Spring. I'll let you know.
10-29-2008
Two weeks ago, I went, all by myself, to a beautiful bed and breakfast in Brewster called the Candleberry Inn. I treated myself to two days of REST, which I decided stood for Relax, Enjoy, Surrender and Thank. I stayed in the Beach Rose room, with a queen sized bed and a gas stove in the fireplace. It was cozy and perfect. Charlotte, the inn-keeper, was friendly and warm.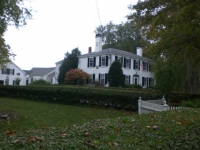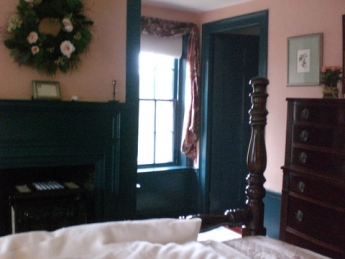 I napped, walked, went to the general store across the street, went to bed very early, and WROTE.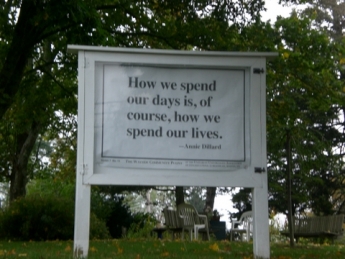 This was the message in the wayside pulpit at the First Parish Church across the street. That made it into my book. Did I mention that I wrote?
I took my unfinished manuscript from the spring, and I gathered all of my notes from the last several years, to make sure I hadn't missed anything for my JOY BOOK.
And it has flowed, and emerged, and with the addition of lightness and pictures, LOTS of fun pictures, it is evolving into a wonderful treat and retreat. I hope to have it finished, and have the first few copies hand-bound for the holiday season. I can't wait to show it to everyone. And to all of you who said how much you enjoy cuddling up with my books, I've held you in my heart throughout the whole making of the JOY BOOK. I think, hope, and am almost certain you will love it.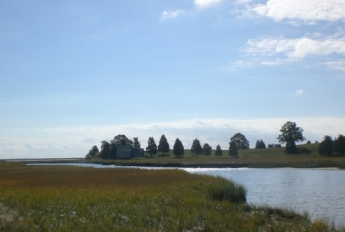 10-9-2008
What a gorgeous place to live! Views of South Rd, Chilmark.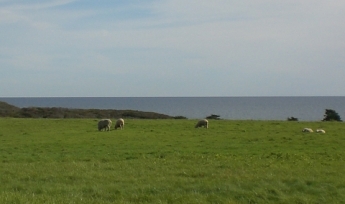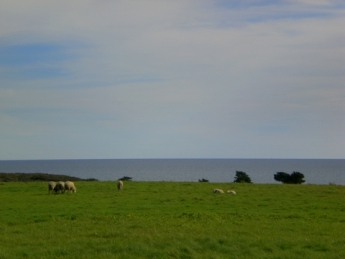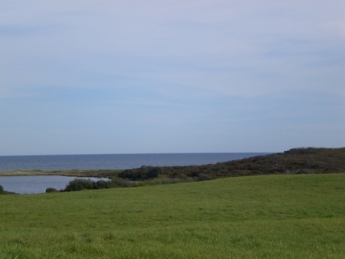 10-5-2008
The Monarchs have returned! I had been watching and waiting...and I am feeling joyous because I have begun to write again. I continue to create beautiful things for the artisan's fairs, but with the season calming down, the days have opened up with windows for rest and writing...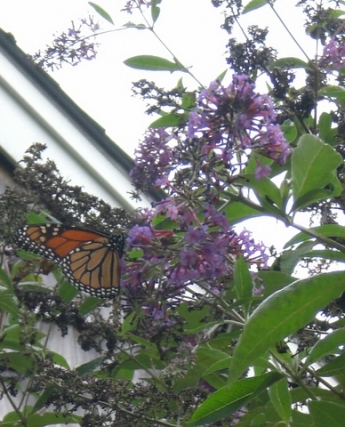 All shall be well. And all shall be well.
And all manner of things shall be well.
~Dame Julien of Norwich
10-2-2008
My good friend Beth reminded me to look at a link posted on Ivan's Poetry Chaikhana blog to a movie by an amazing artist named Vijalis Hamilton. This is of her world wheel project. She travels the world, working with indigenous peoples to create huge sculptures of great significance to them. She asks 3 questions: what is our essence? What is our problem? What is the solution. There are 3 sections in all, about 27 minutes. You'll want to watch all three. They are very beautiful and inspiring.
9-29-2008
with Rose at the command, we harvested the clothesline grapes, and made 5 jars of delicious jelly.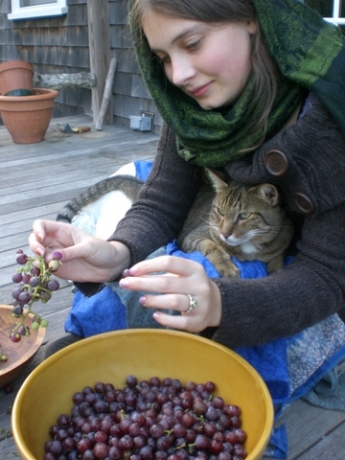 We picked the grapes from along the clothesline
where they had twined themselves all summer long,
pulling days out of darkness
like a curtain or a train.
There had been little room for the drying
of our laundry in the end.
We got a ladder out for the high ones,
lengthened our bodies to reach up
beyond our minds, and cut the bunches down.
We sat on the porch for sorting,
to remove the bugs, the purple from the green,
and gathered the good fruit in a large golden bowl.
The cat joined in, sensing stillness, settling into a lap.
Then we mashed the grapes in a pot on the stove,
boiled them in their own juices,
strained the mash through a cloth,
added sugar, boiled again –
poured jelly into jars.
I've never cared for jelly,
the way the sweetness stings my teeth.
But this brew is different.
This is summer, the clothesline,
an afternoon of harvest:
time spent with a daughter, a husband
in the kitchen together
twining toward another day's morning;
in the evening, reaching, resting;
and in the autumn sun.
Now the rains have come
to settle in clogged gutters;
to creep in around the chimney;
to overflow the wheelbarrow, the pond, the bucket;
to wash the color from the garden;
to strip the maple of its fire…
Anticipating nostalgia,
I make a run for the clump of zinnias
still bobbing their fantastic heads
within the stormy whirl.
Choose me choose me choose me, they call,
and I will give life to your table.
I will give life to your life, this life,
this one life,
this one.
This.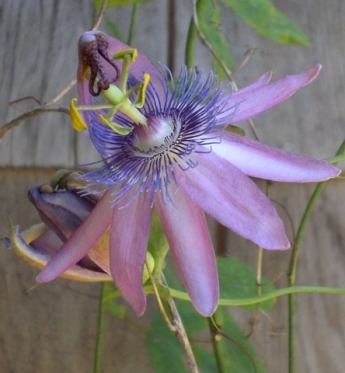 I wandered out distracted today to burn some paper scraps in the pizza oven, and found the garden offerring one last bouquet of roses! It was the most delightful surprise, and quite lifted my mood.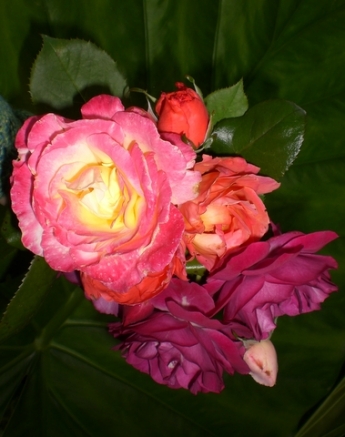 Oh who can tell the range of joy
Or set the bounds of beauty?
~Sarah Teasdale
Grapes have overtaken the clothes line.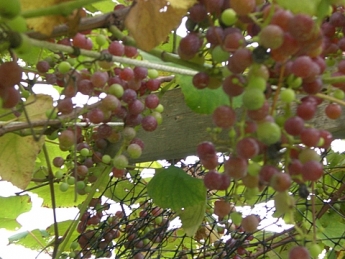 There shall be eternal summer
in the grateful heart.
~Celia Thaxter
Raspberries continue to flourish.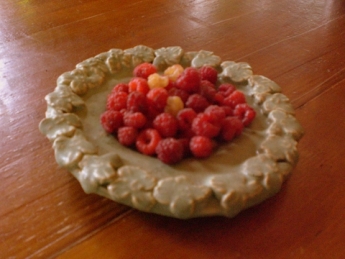 I love raspberries, yet I've found that I pick them for my daughter Bella. Is it that my pleasure is somehow doubled this way, as a mother nourishing her child? I like to imagine how the sweetness surprises her tongue. If I didn't have a child to pick them for, I'd pick them for my husband, my friend, my neighbor. Is this why we are instructed to love our neighbors? For the inherent bliss?
Expect nothing.
Live frugally on surprise.
~Alice Walker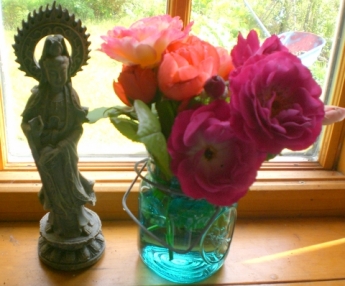 I put the roses on the kitchen window sill.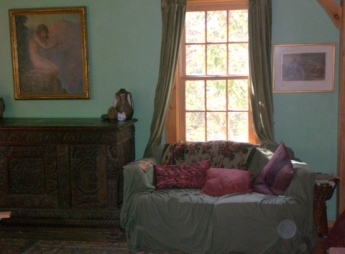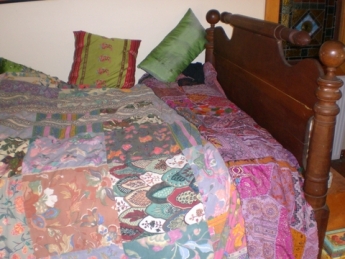 PICKING APPLES!
We started picking apples in my parent's field last weekend, but decided that they were too tart and needed to ripen a little longer. Truth be told they're just plain tart. Here's Jonah with a fabulous tool. The cows love apples, and bread. My mother takes pleasure in bringing home the communion bread from her church, and feeding it to the cows. Life is full of sacrament, the conference of grace. Isn't it?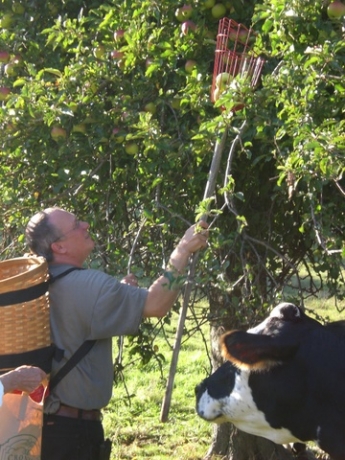 If you always do what interests you,
at least one person is pleased.
~Katherine Hepburn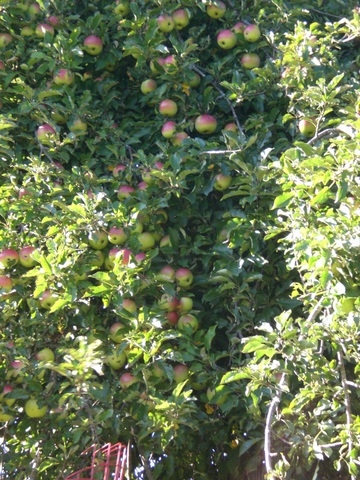 Look at them all.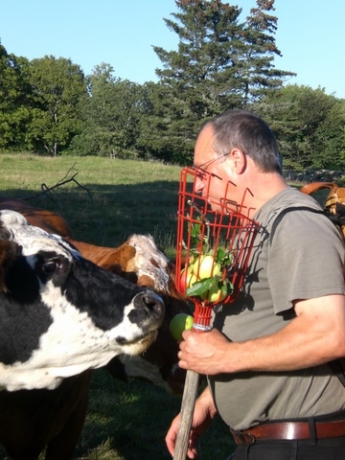 Time to share!
The soul, like the moon,
Is new, and always new again.
~Lalleswari
PICKING PEACHES!
The girls love an excuse to dress up and pose.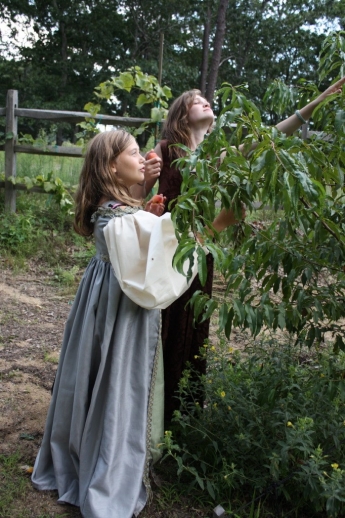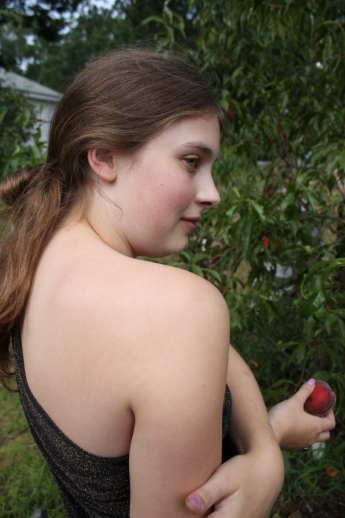 Any time is the time to make a poem.
~Gertrude Stein
Sunrise
the world shifts sweetly open
I turn to lift
from my dream
of You
unending midnight
star fields
trackless blue…
I have felt Your fullness
light inside the body
have swum in Your deep waters
breathed in Your holy breath

my mind echoes with the sound
a thousand hymns unwritten
choirs at full crescendo
and then
shy laughter too
the spring warbler in the holly
the brook in the maple woods
unleash the bird in my heart
to sing through the nectar hours
untie the falcon at my wrist
to draw
the honey
down.
~Ingrid Goff-Maidoff
from the chap-book, Conversing With the Holy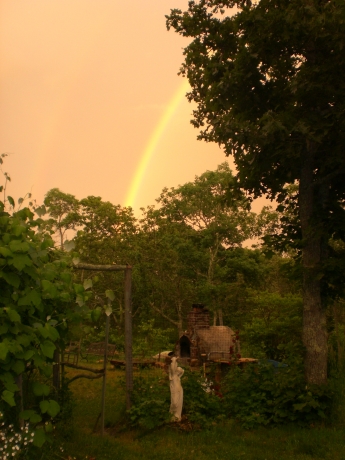 MOTHERING PRAYER
As mothers
we pray
for a world of peace.
We pray for a world of joy.
We pray for the nourishment
and safety of our children.
We pray for wonder, enthusiasm,
goodness and truth,
for compassion, love and kindness…
We pray for discipline.
We pray for maturity.
We pray for courage and strength.
And we give thanks.
The way we live is the way we give thanks.
Our life is a dance of prayer and thanksgiving.
~Ingrid Goff-Maidoff
from the book, Good Mother, Welcome
I assembled Mothering prayer boxes this week. They contain beautiful pictures on one side, and the above prayer on the other. I was tempted to change the last line to "Our life is a dance of love and thanksgiving."
Life is a dance of joy and thanksgiving...
Life is what we say it is, quite often.