Tending joy volume 06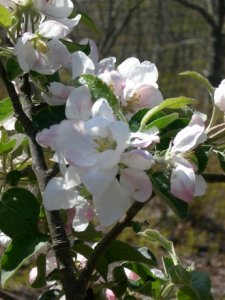 Ingrid's Blog

~~~~~
"Just to live in the country is a full-time job.
You don't have to do anything.
The idle pursuit of making a living
is pushed to one side,
where it belongs, in favor of living itself,
a task of such immediacy, variety, beauty, and excitement
that one is powerless to resist its wild embrace."
~E.B. White
~~~~~~~~~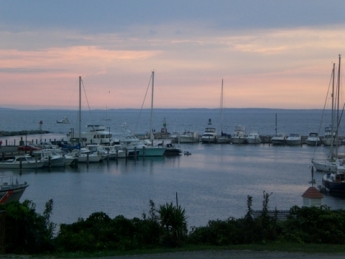 MENEMSHA
The summer has rushed by in a flury of activity, Artisan's Fairs, and summer guests. I have only a few photographs, and fewer thoughtful reflections! OH how time slips, never stopping, rarely standing still.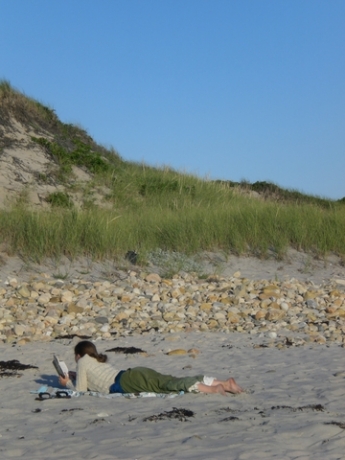 Rose's Favorite Summer Activity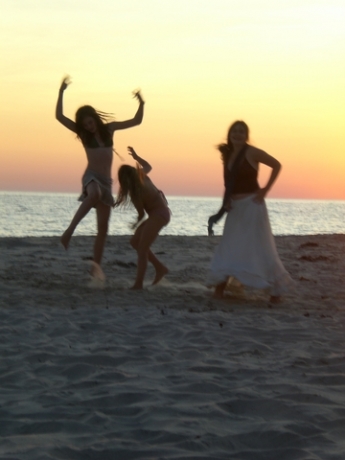 SUMMER SUNSET DANCE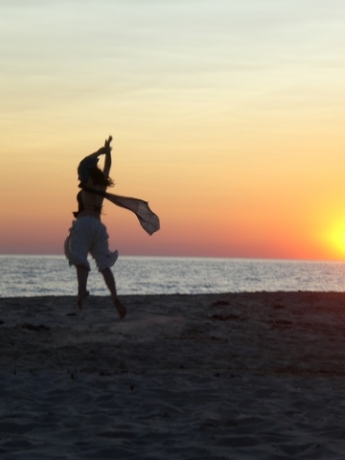 Fill your cup of gratitude
all the way to the brim.
When your cup overflows,
the spirit lifts,
and love emanates a peaceful joy
throughout your whole being.
~ The Honey Sutras
~~~~~~
6-21-08 Rose turned 16, and had a costume birthday party! What a delightful day it was.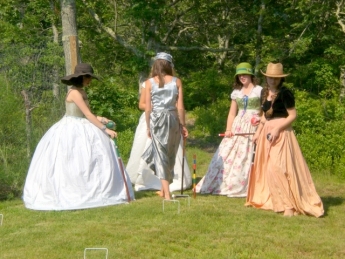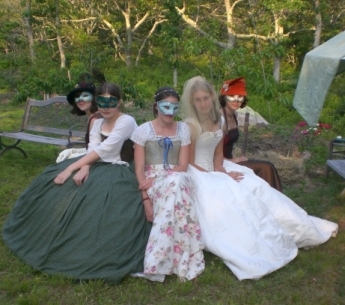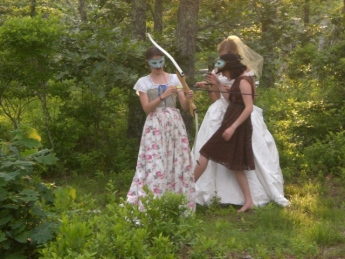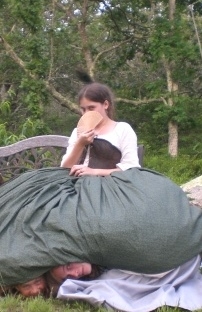 ~~~~~~~~~~
THIS JUST IN: WHERE IS MATT 2008. I'm a big fan of Matt Harding as he dances around the world. Give this new video a look, half a minute in, you'll be feeling the joy.
Girls floating in enchantment...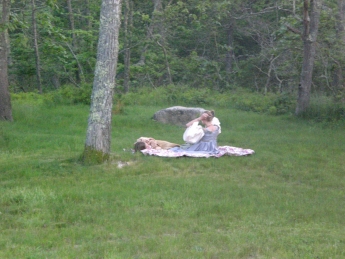 visiting the cows...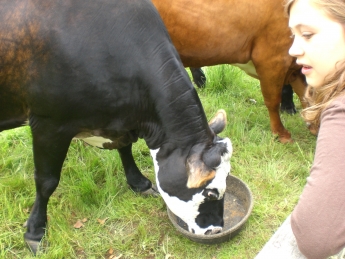 SPRING RAIN...So GREEN!
June 4th... I put on my rain gear and ventured out with a camera, in hopes to capture this deep lush beauty...the promise the garden holds in Spring, of life becoming...emerging...flowing endlessly on...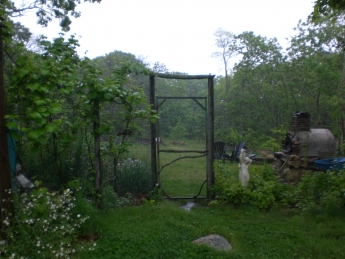 My best friend in high school, Wendy, once wrote a song, "Come and see my garden. All the flowers are blooming. Come and see my garden honey, all the flowers are blooming now."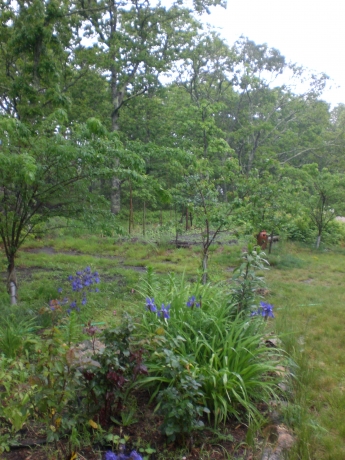 The violets, heather, dandelions, all upon my hillside...
Sometimes I hear the world calling in this same way... singing a similar song.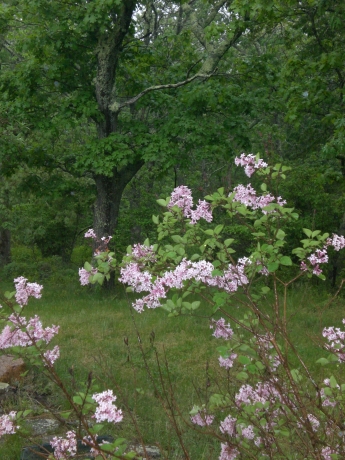 Why does beauty sometimes surprise me so, and take my breath away? Is it because I have become lost in my thoughts, and the presence is calling me back?

"Forget your self", the beauty says, "Come into Now."
If the day and night are such
that you greet them with joy,
and life emits a fragrance like
flowers and sweet-scented herbs,
that is your success.
~ Henry David Thoreau
~~~~~~~~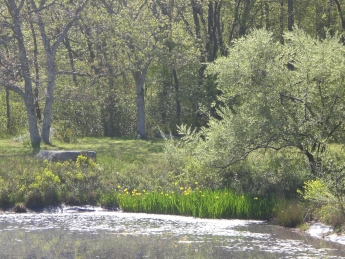 Yellow Irises by the pond on North Tabor Farm Road...
I've recreated my popular gift bags with new wrappings, gifts, and wishes: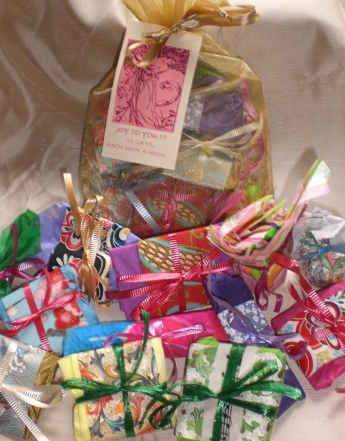 MAY YOUR RAINS BRING YOU RAINBOWS...MAY YOU KNOW COURAGE AND STRENGTH...MAY YOU HAVE PEACE AND PLENTY...MAY YOU HAVE LOTS OF TIME TO PLAY...MAY YOU KNOW LOVE...MAY YOU DREAM BEAUTIFUL DREAMS...MAY YOUR DAYS BE FILLED WITH MUSIC...MAY LIFE DELIGHT YOU OFTEN...MAY YOU ALWAYS HAVE EXTRA MARBLES,(IN CASE YOU LOSE A FEW....)MAY YOU KNOW BEAUTY...MAY YOU ENJOY YOUR FRIENDS...MAY YOU NEVER EVER FORGET HOW WONDERFUL YOU ARE...
~~~~~~~~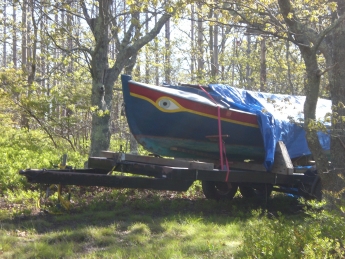 "If I had a boat, I'd go out on the ocean. If I had a pony, I'd ride him on my boat...." ~Lyle Lovett
We have a new (old) free boat! Isn't she a beauty? Now all we need is a trailer, a motor, a mooring.... Our friend Billy says b.o.a.t. stands for "break out another thousand." I wonder what f.r.e.e. stands for- "fools rush, endlessly eager..."
The way to know life is to love many things.
~Vincent Van Gough
The only wealth is life.
~Henry David Thoreau
This world is but a canvas to our imagination.
~Henry David Thoreau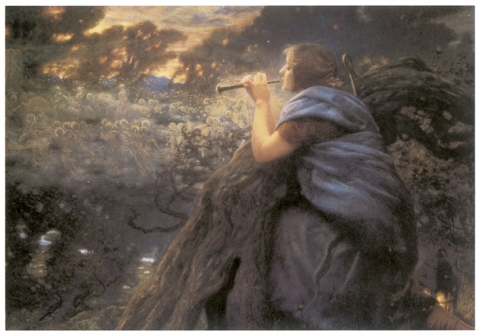 Here is a link to the trailer for the movie, YOUNG AT HEART. It is a documentary about a choir in North Hampton whose members have an average age of 80. This film is the most tender celebration of the human spirit, and of the joy for singing. Many of the members of the choir are near the ends of their lives. This is a fact that is not denied or resisted. Each day becomes another chance to squeeze the sweet juice out of life, to celebrate, and to sing. This is a beautiful film. I loved it, and continue to think of it. Go see it if you have the chance.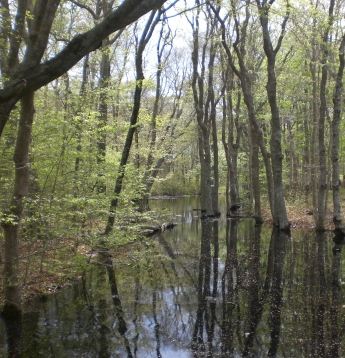 Marle's Pond Loop, at Great Rock Bite.
STROKE OF INSIGHT:
Here is a link to Neurologist Jill Bolte Taylor talking about having a stroke, and of experiencing the inner peace of Nirvana. This is an amazing and inspiring talk.
Here is a link to 4 conversations she has with Oprah. So INSPIRING!
What I love about Jill Bolte Taylor's message is that she wants to teach everyone that if she can experience Nirvana, that inner peace within, then everyone can. We all have it right within us, and we just have to pay attention to our thoughts. This is the motivation that inspires my work, my writing, my products. I love it when they help people shift to their inner place of peace and joy. I say "inner" because we all have it- we carry it with us. Remembering this- well, it seems to be an on-going process, doesn't it?
~~~~~~~~~~~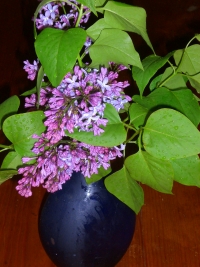 I have waited for what feels like an eternity for my lilac bushes to bloom! This Spring, what a gift. I am so pleased. Oh, the fragrance. So sweet and fulfilling in a nostalgic sort of way.
I've always wanted to make Paper Crane kits. So this week I did. There is something so peaceful and satisfying about folding origami cranes...(once you've learned how.) When we were building our house, Jeffrey- the best most cheerful plumber you'd ever hope to meet, used to go out to his van for lunch breaks and fold paper cranes. Then he'd come back in, wrestle with the children, pat the cat, and get back to work.
This winter when I was flying home from Wales, the little girl in the seat beside me had origami paper and kept herself occupied folding amazing things. I knew right then that I would like to have a stash of pretty little papers for travelling. What a lovely way to pass the time.
Here's a Link to instruction on folding paper cranes.
~~~~~~~~~~~~~~~
Happy Spring! We've had peach blossoms, apple blossoms... and beautiful violets everywhere. I've had a busy winter... and I've been a terrible correspondent. I hope everyone is well. I've carried you in my heart these last few months. Here are glimpses into the Studio, the Island, the garden, and more...

Sometimes I wonder how I can continue to focus on Joy when there is so much sadness in the world. Life is full, and sorrow is real. I've written an article on Sorrow and Joy for the article archives. I hope it helps.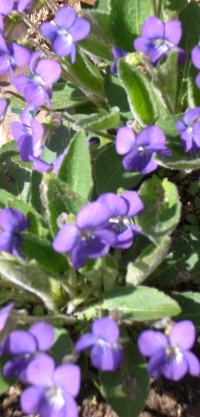 I've been realizing lately that living with Joy makes of every day a Sabbath and a Thanksgiving. I would like to bring these qualities to work and play, to family life and community.
Through stillness, I remember the oneness of my soul with the world-soul, and I refresh and awaken my heart to feel the presence of Joy both within me and all around.
Through celebration I engage gratefully in the dance of life, allowing the energy of Joy to flow through me and back into the world.
This journal itself is a part of taking time to note the beauty of the earth, and writing a poem or a ditty, or taking a photograph. And this journal also helps me give thanks and celebrate the creative energy of life as it flows through me and into my studio creations. Thanks for being such a lovely community and sharing this life (adventure; journey; unfolding; joy) with me. ~Ingrid
Joy and sorrow are the shade and light of life; without light and shade no picture is clear. ~Hazrat Inayat Khan
Go forth into the busy world
and love it. Interest yourself in its life,
mingle kindly with its joys and sorrows.
~Ralph Waldo Emerson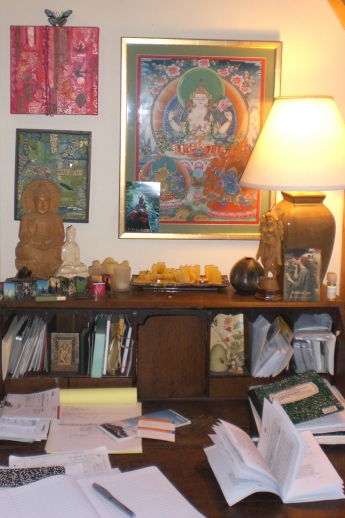 I cleaned my desk... can you tell? I've been working on a new writing project all winter, only to realize that this is one project that I am meant to savor...in other words: it wont be ready for the summer season. Ah well, these things mustn't be rushed.
In the meantime, I'm busy creating in the studio. Some New things too!
NEW CARDS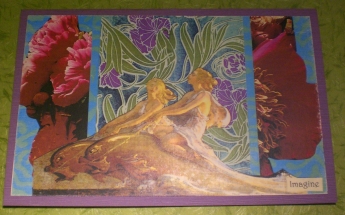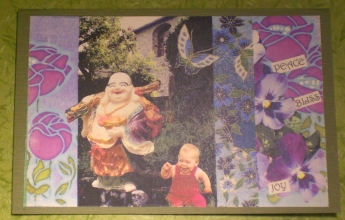 I've uploaded five cards created from the illustrations in my book, Postcards from the Landscape of Joy. Click here to see them.
Fortunes waiting to be bagged...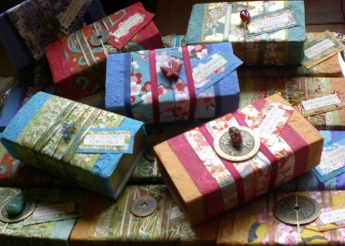 Eternal Song Books under my sophisticated presses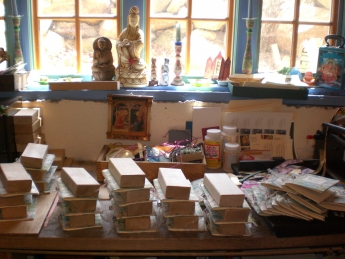 A water view from a recent walk...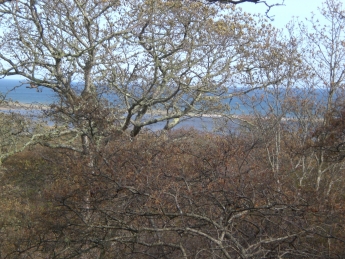 JOY: A deep passionate awareness of the very act and art of living; A sacred happiness; A vibration; An inner smile.
An anticipation of good.
A Divine Current flowing through us and into the world.
~Ingrid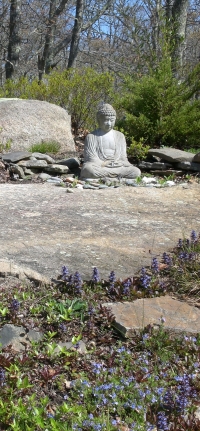 Blue flowers in the rock garden. I love the colors of Spring!
YOU WERE MADE FOR JOY.
JOY DELIGHTS IN YOU.
JOY IS WHAT YOU ARE.
ALL THINGS GROW UP FROM
AN ATMOSPHERE OF JOY.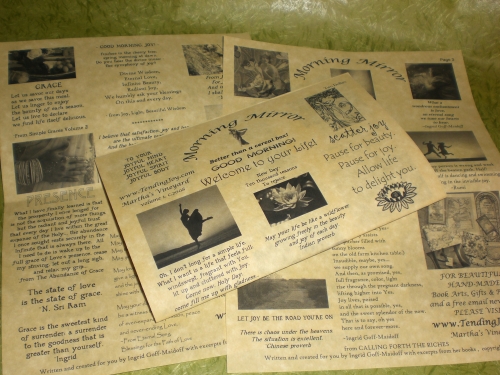 EXTRA EXTRA! Read all about it! For fun, I've created a mini inspirational newspaper. I'll give them away free with any order, or you can purchase them here. In the meantime, I want to send three of you a musepaper and a couple of my new cards as a gift.
Write me your snail mail address by May 19th, and I'll send the first three folks some goodies. And, Thanks for helping me Scatter Joy.
I've added my paper and pearl earrings to the web-site.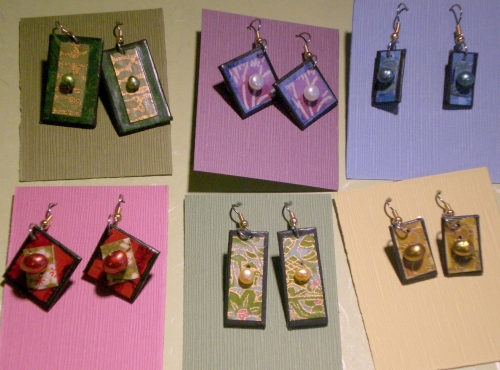 And I've added Necklace cards.
This winter my sister Heather and I had the great gift of joining my parents and my Aunt Kate in Wales for their annual walking tour. It was beautiful. We walked for miles every day. My Dad is an excellent map reader and guide. I had a wonderful time, and briefly envied a goat who seemed to be on top of the world.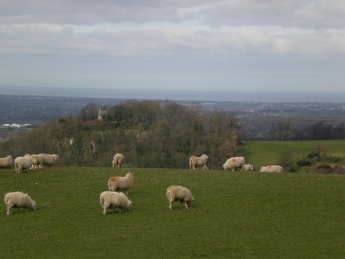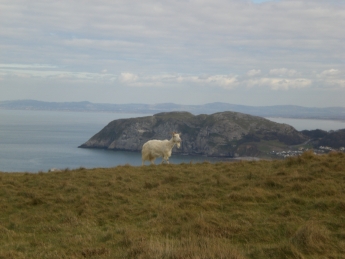 I finally figured out that the only reason
to be alive is to enjoy it.
~Rita Mae Brown