Tending joy volume 05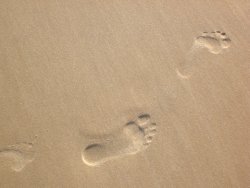 Ingrid's on-line journal

WINTER, 2008
Come, let us celebrate Life together.
Let us explore, dream, create, and
Tend Joy.
FEBRUARY 20th
I enjoyed this little video at Amazon about a book on six word memoirs. Check it out.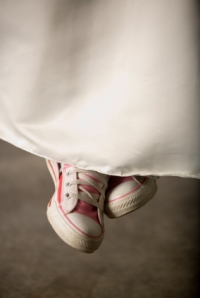 THIS JUST IN! I made a musical valentine from my song, I Symphony you. It's on YouTube! Check it out here. When I first wrote this song, women asked me to serenade their husbands with it... it even helped one couple decide to get married. It's very romantic!
HAPPY VALENTINE'S DAY!
I hope everyone knows with confidence just how sweetly and deeply you are loved. Today my husband is traveling with his school group, and so there were no valentines for me - and for a brief moment I pitied myself. For a brief moment I wished that I had a special someone who would see me fresh and new and beautiful- who would see gorgeous and vibrant layers of me that I had even forgotten myself, and bring them forth with admiration. And then I realized that this was a task I might just have to take on for myself. ~Not to find that other someone, but to look for my own forgotten loveliness. And so I shall.
Oh friends, love yourselves! Find the deep layers of loveliness; the pockets of beauty; the landscape of joy. They are there. You are splendid. What will you do today?
It is love that I am seeking for.
But of a beautiful unheard of kind
that is not of this world.
~William Butler Yeats
CLICK THIS LINK for my romantic little story, The Phantom Valentine.
We must widen our circle of love
until it embraces the whole village;
the village in turn must take into its fold
the district; the district the province,
and so on 'til the scope of our love
encompasses the whole world.
~Gandhi
FEBRUARY 6th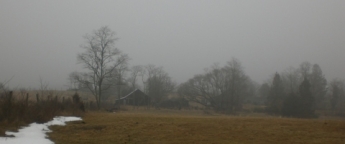 MISTY FIELDS IN FEBRUARY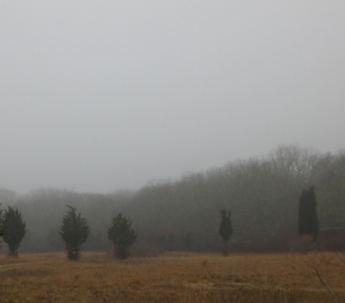 Longing for life-intimacy, I walk these fields and trails, and I bind myself to them. Scientists say that it is through bonding that we find happiness, and they are learning that this is not only in bonding with each other, but with the Divine...
Thank you, dear friends, for your bond with me as well. You bring me great joy. I have sent Valentine gifts to Nina, Elisabeth, and Jacki. Enjoy!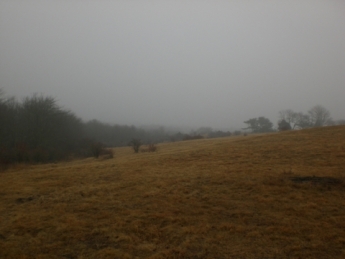 February 1st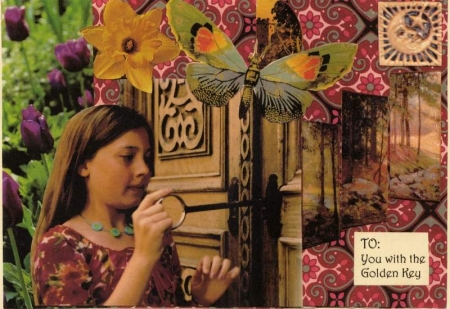 These days I have a recurring image in my mind, of a trunk under a bed� when I open the trunk, I find a pair of folded wings that were mine from a long time ago. I put them on, and feel a lightness, a spaciousness, the innocence of youth ~ not naivete, but optimism and joy. I wonder to myself, when did I fold up these wings and put them away? When did I become prone to such bouts of heaviness? I decide to leave the wings on for a while. Nobody can see them under my clothes, but I know that they are there, and this makes me smile and gives a little lifting to my step.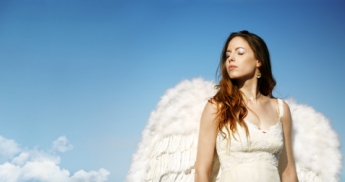 CLICK HERE FOR BEAUTIFUL LOVE QUOTATIONS, perfect for Valentines day...
Thanks, Michele, for recommending Chasing Joy, by Edward Hays. Of course I ran out and got a copy, and am very happy to add it to my collection of books on my favorite subject. He opens with the passage of Paul from 1 Thessalonians 5:16-18,
"Be always joyful,
Pray continually,
and Give Thanks in all circumstances."
This certainly reminded me of my little mantra, "Listen, Admire, Give Thanks and Bless." Hays offers 40 musings on life in a bittersweet world. I am enjoying his intelligence and generous spirit. He is catholic, although not exclusively. He draws from world religions as well. Here he quotes Buddha,
Live in joy,
In love,
Even among those who hate.
Live in joy,
In health,
Even among the afflicted.
Live in joy,
In peace,
Even among the troubled.
Health, contentment, and trust
Are your greatest possessions,
And freedom your greatest joy.
Look within,
Be still,
Free from fear and attachment,
Know the sweet joy of the way.
~Buddha
~ as quoted in Chapter thirty, Chasing Joy, by Robert Hays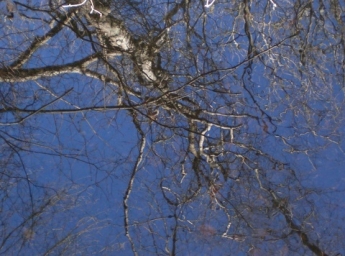 This is a reflection on the stream beneath the bridge in the woods,
not far from home....
I've also been enjoying Marci Shimoff's book, "Happy for no Reason." She suggests that happy people share a number of basic habits and practices that build a foundation for happiness. She quotes the Dalai Lama's book, "The Art of Happiness," on the cultivation of these habits, the joy of the way:
"One begins by identifying those factors which lead to happiness, and those factors which lead to suffering. Having done this, one then sets about gradually eliminating those factors which lead to suffering and cultivating those which lead to happiness. That is the way." ~Dalai Lama
Marci offers a number of habits for the mind, body and spirit which increase happiness. As I read her book, it dawned on me that I am a very happy person, and though I could rarely give a reason, I seem to practice many of the habits of the way. At one point, she suggests the habit of Inclining your mind toward joy. And this, for me, is another term for Tending Joy.
She re-tells the wonderful story of the Cherokee elder who explains to his grandson that all people have two wolves that battle inside of them. One is Unhappiness- fear, worry, anger, jealousy, self-pity, resentment, and inferiority. The other is Happiness. It is joy, love, hope, serenity, kindness, generosity and compassion. When the grandson asks the elder which wolf wins the battle, the old man answers him, "The one you feed." P.107
Here's to joy, love, hope, serenity, kindness, generosity, truth, and compassion in your life! Feed them well!
JANUARY 31st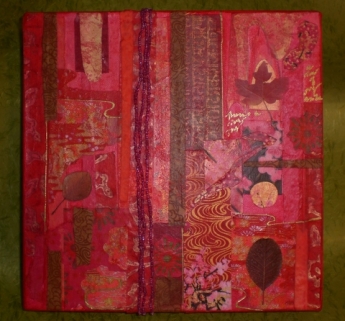 I made a collage painting in the studio this week, and called it "the river of joy inside." I almost didn't give myself permission to play around- there are books to write, after all, and gifts to make. In the end, I feel so spacious, so free... a new world of openness. I don't know why this makes me think of the poem by ISSA: "Napped half the day- no one punished me!" Perhaps because I played half a day, and no-one punished me!
"Surely Joy is the condition of Life." ~Henry David Thoreau
~
Rural Charm... I love these mail boxes on Middle Road, and mean to take a picture whenever I walk by. Today I did.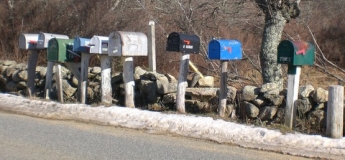 snow remains in drifts... And on my loop through the neighborhood, I took this picture of my parents' laundry. Might I add how much I admire my mother as an environmentalist and a down-right wonderful person- how she hangs her laundry when the weather is clear... how she knows the pleasure of it, even in winter when the fingers get chilled.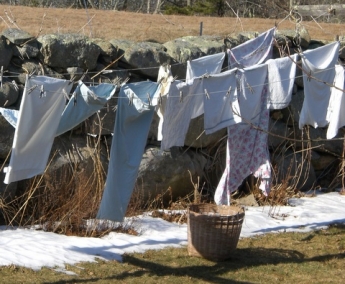 WISDOM BOXES FOR MIRAVAL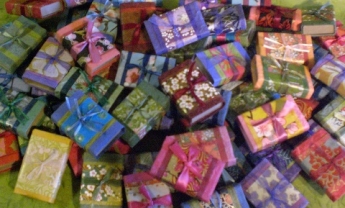 THE MIRAVAL SPA RESORT has ordered 500 wisdom boxes! I'm so pleased to be making them. Miraval has been voted the #1 destination spa by readers of Conde Nast Traveler and Leisure Magazine.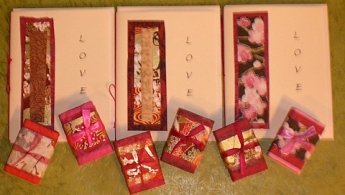 VALENTINE GIVE-AWAY
My Wisdom boxes make wonderful valentines. I'll send a pretty red box and a love card to 3 lucky winners. Keep them for yourself, or give them away... Send me your snail mail address, and I'll put you in my raffle hat. The drawing will be February 6th. click here to email me.
CLICK HERE TO PURCHASE LOVE CARDS
Oh how time flies. We had some snow on Sunday. Gorgeous.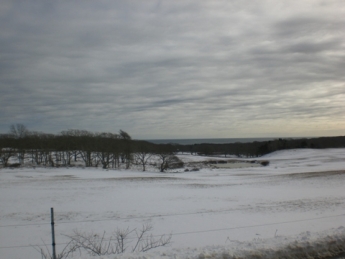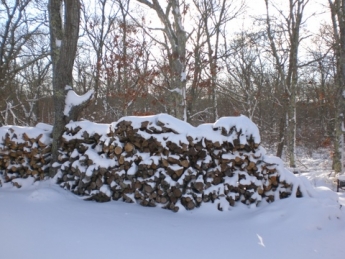 JANUARY 23rd...AND THE WINNER IS:
I drew Patricia Badolato's name out of my raffle hat last night. Today I have sent her the Joy Bundle Give-Away. Thanks to all who entered.
Patricia wrote: "The mantra that I've been using for years and years is "Live Well, Laugh Often, Love Much" It has become so popular these days that it has almost become a cliche, but it still helps to keep me on track to keeping JOY in my heart. It reminds me to be kind and treat myself kindly, to laugh and not take things so seriously, and to cherish those I love and to express that love everyday."
stay tuned... there's a Love Raffle brewing!
Gorgeous Day
January 11, 2008..... My Daughters Rose and Bella, barefoot at Lucy Vincent
~~~~~~~~~
I've posted REFLECTIONS ON GRACE, excerpts of my own passages from the book of quotations, The Abundance of Grace. Enjoy!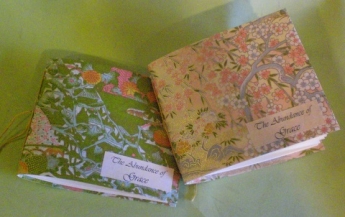 ~~~~
I've been reading and enjoying Happiness Now! by Robert Holden Ph.D. When he was a student of psychology, Holden became concerned that the main thing psychology scrutinized was dysfunction and disease. As a student, he was taught to look for and become adept at finding problems. It dawned on him that there were, at that time, no studies on what promoted healthy, happy minds. And so the study of what made people happy became his special focus.
Robert Holden reminds us, among many things, that pleasure is happiness of the body, satisfaction is happiness of the world, and joy is happiness of the spirit. I love what he says about Joy:
"This is the happiness that goes with you wherever you go. Whereas physical pleasure and life satisfaction are born and then die, joy is eternal and timeless- it is happiness now. This joy is inward, it is deeply intimate, a part of the fabric of your soul, and it is the amazing grace of your spirit. As such, it is constant.
This joy is natural. It is 100 percent unconditional, non-judgmental, and free. Wherever you go, there It is. It is not empty, It is full. It is loving. It has consciousness. You can relate to It. You can ask It for guidance. You can ask It to shine Its Light upon your problems. You can sing to It, pray to It, and dance with It. You can meditate on It. You can draw with It, write with It, and heal with It. You can ask It to bless your relationships, your life, your career, everything. Let It be!" Robert Holden Ph.D. p.137, Happiness Now
In this book, Holden offers a wealth of inspiring information and practices to help us to understand, embrace and feel happiness. Curled up on the couch, delighting in each page, the light of insight filled my head and heart many times. This is a very enjoyable and edifying read.
Love and be Happy.
~Robert Holden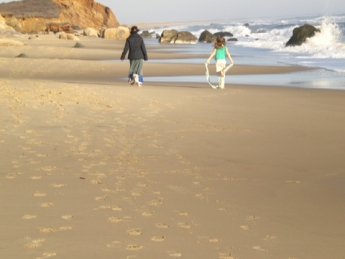 scarf jump-rope
4 Simple Practices for Reclaiming Joy
I fell out of grace over the holidays: I ate too much sugar, bought into a guest's scarcity consciousness, became tangled up in dreary thoughts, and was impatient with the people I love the most. It wasn't pretty. I found that I was
Thinking too much
Worrying
Complaining
And afraid.
When I sought guidance, the much needed suggestion that came to me was:
Listen
Admire
Give Thanks
& Bless
Each of these words offers a practice that helps bring us back into the full graciousness of the present moment.
To listen is to get quiet, give your weary mind a rest from all the nagging thoughts, be open for guidance and deeper wisdom, and to become spacious. I find that a solitary walk is one of the best ways for me to do this. Meditation and contemplative reading also help.
To admire is to focus on and rejoice in all that is good and beautiful and abundant and true. Imagine that you are looking through a camera- look for colors, textures and loving details, action shots, smiling portraits, expressions of humor, passion, tenderness and joy.
To give thanks is to channel the flowing energy of gratitude and prosperity back into your life. Give thanks for all you admire. Give thanks for the gifts you so often take for granted. Give thanks for the people in your life and all that they have to teach you. Give thanks for your socks - just give thanks. A lot.
And to Bless is to become an active, loving, unselfish, generous, caring, compassionate, and Joyful participant in the big world. Through blessings we invoke light and love and goodness. We bless through our work, our art, our words, and our intentions. This is a million times more useful than complaining, helping us to reclaim joy and restore a balance of peace and love to the world.
Try it for yourself. Listen. Admire. Give Thanks, and Bless.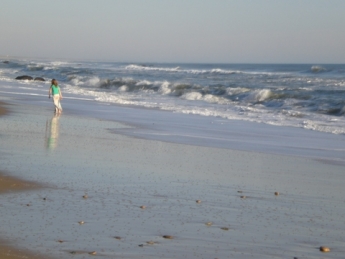 If you have a favorite slogan or mantra, or a simple practice for tending joy, I would love you to share it. Write me!
In everything, give thanks.
Love and know Joy.
This morning, in the shower, I was looking for a mantra for openness, peace and love. And I found myself chanting quietly, I do believe in Joy. I do. I do!Just as Peter Pan revived the life-spirit of Tinkerbell with a chant of his own. I do believe in Joy. I do.
I love that! To lean toward Joy, to tend toward joy- to believe in the fundamental existence of joy- this increases our awareness of the constant abundance of Joy in our lives.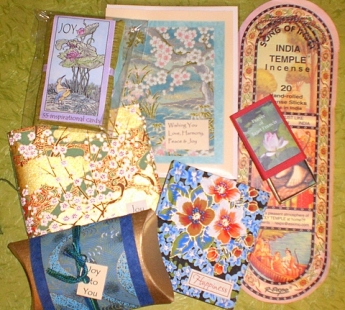 JOY BUNDLE GIVE-AWAY
I do get my jollies sending love and joy through the mail. Send your name and snail mail address, and I'll put you in a hat for a raffle. DRAWING: JANUARY 22nd... TO ENTER: CLICK HERE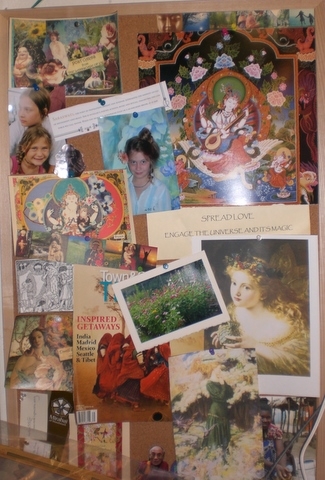 I keep my studio energy up with bulletin boards of happy pictures all around, and little altars everwhere....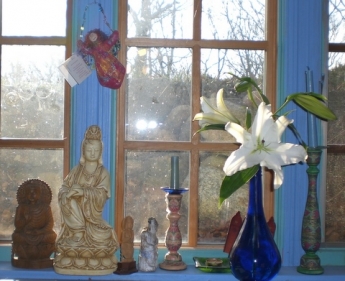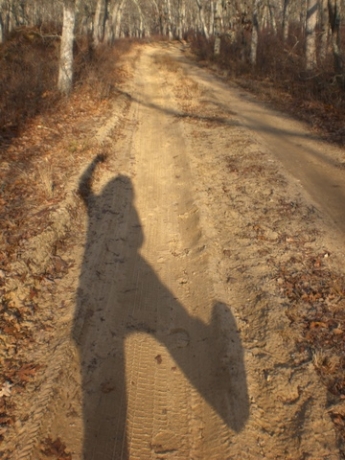 My Shadow
here to remind me what happens when I turn my back to the Sun.
"Most of the shadows of this life are caused by standing in one's own sunshine." ~Ralph Waldo Emerson
Turn your face to the sun
and the shadows fall behind you.
~Maori Proverb


When you possess light within,
you see it externally.
~Anaïs Nin
Luminosity is the nature of one's mind,
that eons of confusion cannot darken.
~Lama Shabkar
From within or from behind,
a light shines through us upon things,
and makes us aware that we are nothing,
but the light is all.
~Ralph Waldo Emerson