Tending joy volume 04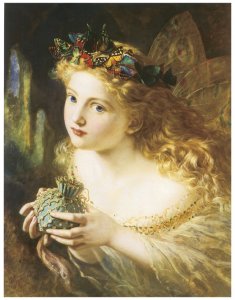 Ingrid's web-journal

In these posts I celebrate the life of
Joy & Love & Peace & Plenty
I share with Jonah, Rose,
and Isabella~ on the beautiful island of
Martha's Vineyard
where we are so blessed to live...
Trying Something new: You may GO HERE to subscribe to my
RSS Feed.
DECEMBER 28th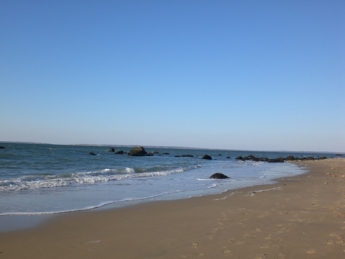 No Snow to speak of... Sunny, mild. I spoke with my brother in North Carolina. "It's been warm here," I said, "around 40." "Cold here," he said, "around 50." We're having great hiking weather. Here's a recent view of the water from Great Rock Bite.
We had a lovely tree this year, cut from the woods nearby. I took it down yesterday, and the house feels so large!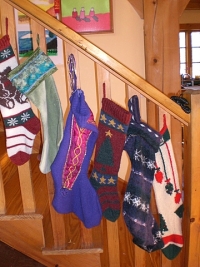 The stockings were hung by the woodstove with care...
December 14th-
Happy Holy Days, Friends. Whatever you celebrate, celebrate with Joy and Love and Good Cheer. I was out walking this morning, and look who I saw, cracking jokes together...sharing a few good stories...
OLD FRIENDS
My family and I are all over the spiritual map. We revere many teachers, Jesus among them, although shyly and with less intimacy than I would like. My daughter Bella has been learning about the Hindu Gods and Goddesses in Yoga class, and I feel her reverence for life's mysteries growing. We celebrate Christmas culturally, although even the children agree it has become a consumer holiday. Some years we celebrate Chanukah. And I love Buddhism, Sufi poetry, mysticism. When the girls were young, I knocked myself out trying to celebrate and learn about every holiday of this season. I ended up feeling a bit frantic and silly. Universally, this is a season of Love and Light. And so, I hope that amid the parties and the presents, Love and Light are what will emanate from the background, holding and filling us all.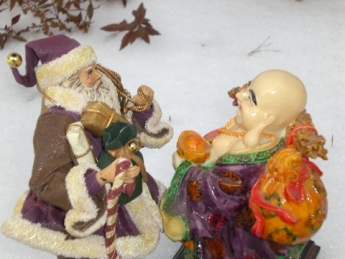 COMPARING NOTES
ENJOYING A BIT OF CHEER
Click here for beautiful thoughts on Santa Claus
by C.K Chesterton and Francis P. Church
AND CLICK HERE FOR A LITTLE ARTICLE ON HOTAI
With all these thoughts of Hotai and Santa Claus, I'm feeling generous!
DO YOU NEED A PRESENT? I LOVE GIVING PRESENTS.
LET ME SEND YOU ONE!
I'LL SEND A GIFT TO THE FIRST TEN PEOPLE TO ASK
BY MIDNIGHT DECEMBER 17th.
write: ingrid@ingridgoffmaidoff.com
December 12- Seeking Beauty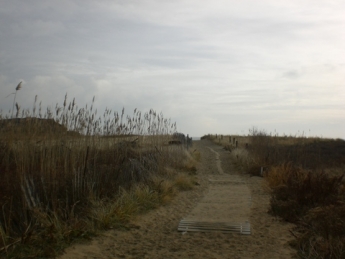 I spent all day Monday off-Island, (in America) getting the car fixed at a dealership in Hyannis. They were very kind, and dropped me off at the Mall to wait out the five hours the repairs took. After two hours, I thought I was finished. By the fourth hour, I was a little delirious, amusing myself at the Crabtree and Evelyn store, sniffing everything. I even bought Jonah some sandalwood soap and deodorant- I hope he's not insulted! By the fifth hour, I was even more delirious: I had tried on and purchased a very expensive pair of pants... It's a good thing I live on an island.
Today I put on my new pants. Jonah liked them. What a dear sweet fellow. I have shipped off four orders with extra treats:Thank You! And I decided to spend a little time walking around in my new pants, seeking beauty to send to you. So I stopped off at Lucy Vincent Beach before making my way back home.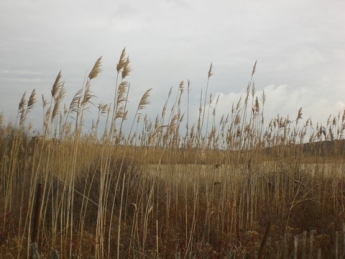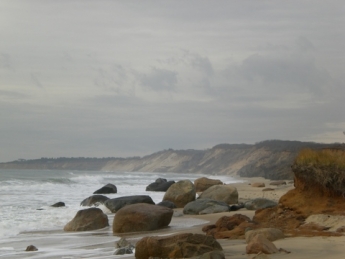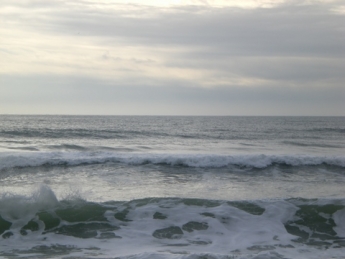 Such Blessings we receive!
Such gifts of grace!
If we have wandered from the path of gladness,
Point us back to Life!

~Ingrid Goff-Maidoff
Simple Graces for Every Meal
& also the Happiness book of quotations from Andrews McMeel
~~~~~~~~~~~~~~~~~~~~~~~~~~~~~~~~~~~~~~~~~~~
December 6th
Oh my goodness, I feel the extravagant urge to give away the store! This hits me every now and then, and today, because Jane from Alaska placed an order, I'm inspired to add extra gifts to every order I receive this week.
Greetings! Joy to you, friends. I hope this finds you well.
I don't know about you, but these days I find that I am meeting the holiday season with my usual mix of love and ambivalence. I want to celebrate light and joy without getting too caught up in) a: shopping, and b: worrying about having enough money to get through the winter. In my heart I have enough. On paper- this might be another story. (And, in a fit of complex human hypocrisy, I know that this website is a marketing tool for my books and gifts!)
Everywhere in America we are urged to buy more stuff. The funny thing is, try as I might, it's hard to imagine anything that would give me more joy than an afternoon spent writing a poem…For me, that is abundance. That is joy. That is wealth. An afternoon of gratitude and stillness, and love. What about you?
Sometimes my ego will say, "You need a prettier saucepan." But then my heart, which is also God's heart, will say, "Sweet idiot, don't listen."
It's more difficult with the children. I want to give them the world, and like a redundant messenger, I wag my finger across the night sky. Thankfully, they mistake this for dancing, and every day they return to the nest which is our home, singing, and write their own lines in the rich stories their lives will become.
If the word prosperity means, "to live in hope," then I promise you this: I prosper. ~Ingrid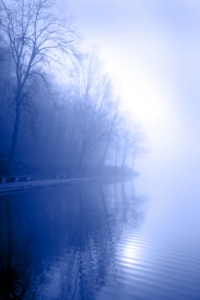 i want to give you a poem, love,
and i may never get it right.
i want to give you the world.
here, love, is the world,
and you may have it.
the full and free world: that one.
the singing world.
the golden spacious spinning world
of dreams & rivers & sky;
of people who hum with
wild and holy stillness,
make love & dance & kiss the dirty ground.
that one.
the world of delicious plenty~
reaping & rejoicing.
do you see it, love? that one.
i give it to you. that one.
do you feel it, love?
then it is yours.
~Ingrid Goff-Maidoff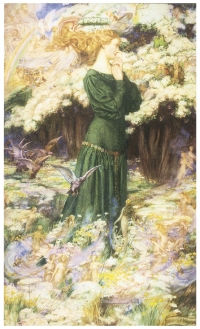 LINK TO LITTLE ARTICLE: THE BEST THINGS IN LIFE AREN'T THINGS
For those who live on the Vineyard, The Bunch of Grapes is now carrying quite a few of my books. I also have an overflowing display at the Artisan's Gift Gallery Cooperative On State Road near Cronigs. We are open every day from 10-6. Tomorrow night (December 7th) we will have an opening reception featuring Dan Waters, Beldan Kurosman, and me. So come on by!
~~~
I wrote a little essay the Martha's Vineyard Times Printed in their Holiday Gift section last week. I met lots of people at the Artisan's show who had cut it out to send friends- so I thought I'd share it with you here.
By Ingrid Goff-Maidoff
I wish you happiness.
I wish you health.
I wish you prosperity and love.
I wish you joy and peace
and every blessing that life has to give.
I wish you work that satisfies.
I wish you courage and strength.
I wish you passion and delight.
I wish you rich and fulfilling relationships
with family, friends, lovers
and Life itself…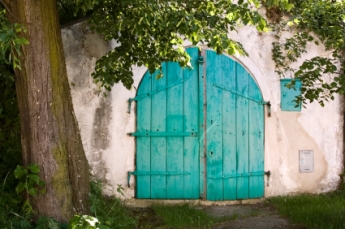 Oh Lord that lends me life,
Lend me a heart replete with thankfulness.
~Shakespeare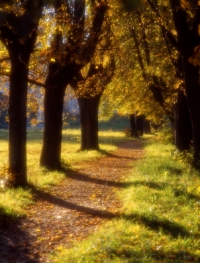 November 20th... quickly, before my company arrives...With a grateful heart, I pause now to acknowledge the many gifts Life blesses us with and daily. I give thanks for the feasts of food, laughter, love, heat and light. And I give thanks for the little things that so often go unnoticed. "God courts us with the beauty of this world," wrote Rumi ~ the smiles that come from strangers, the feathers on our trail. What a privilege to be courted, and a privilege to give thanks.
THANKS TO ALL OF YOU FOR YOUR PRESENCE IN MY LIFE!
~~~~~~~~~~~~~~~~~~
November 16th.... some Nectar for you!
Hope is like a road in the country;
there was never a road,
but when many people walk on it,
the road comes into existence.
~Lin Yu T'Ang
As the hand is made for holding
and the eye for seeing,
Thou has fashioned me for joy.
share with me the vision
that shall find it everywhere.
~Gaelic Prayer
More for Thanksgiving:
I've often thought that this Buddhist Prayer of Compassion would be a wonderful way to start a meal.
May all beings be fed.
May all beings be free from suffering.
May all beings be happy.
May all beings know
the light of their true nature.
With grateful hearts, we ask this.
Here's one more simple grace I penned this season:
Let us rest together
in the sweetness of this hour
with full and thankful hearts,
thoughtful and generous minds.
~Ingrid Goff-Maidoff
~~~~~~~~~~~~~~~
November 13th
Welcome! Thank you to all who have written to me. Your kind words and encouragement fill me with good feelings. I loved Ellen's response to my business hiccups: I hope you took a deep breath, held it, then let it all slowly leave your body! That is a cure for hiccups- isn't it!
I have sent "Happiness" cards to Dava Joy, Peggy, and Robyn. And thank you for your orders too. I'll cook up a new give-away soon. I love sending off packages.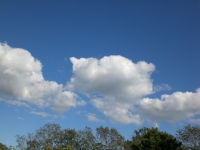 I forgot to tell you about my other business "hiccup." I let my domain name, "Sarahscircle.com" expire. I don't know how it happened...destiny or folly or a little bit of both, most likely. I did business with that domain for nearly a decade... and now it is in the loving and deserving hands of someone else.
"The Universe is but one great city, full of beloved ones, divine and human by nature, endeared to each other."~Epictetus
And so, I surrender. I let go, and I wish the new sarahscircle.com the best. The trouble is: almost all of my products and books say "sarahscircle.com" on them somewhere. Still, there is nothing to be done but look ahead. My friends say it's a sign of splendid new things to come. It's certainly a nudge for me to commit ever more deeply to tending joy. So "TendingJoy.com" we are now. Here we go. And thanks for being here with me.
~~~~~~~~~~~~~~~~~~~~~
November 10th
I have penned a few new simple graces, with Thanksgiving in mind. Here they are! I know how easy it is to become tongue-tied when it's time to say grace. Feel free to use these, or let them inspire you to write your own.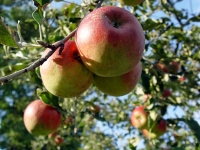 Let us savor our days,
as we savor this meal.
Let us linger to enjoy
the bounty of each season.
Let us live to declare
we find life itself delicious.
~
We are gathered together
in a circle of plenty,
a circle of love, and a circle of light.
With peaceful hearts, we welcome each other.
With grateful hearts, we give thanks.
~
We dedicate this gathering
to the nourishment of each other,
through good food, thoughtful listening,
loving words and grateful hearts.
May the light of this occasion
reach every corner of the earth.
THIS LINK goes to more graces, from SIMPLE GRACES FOR EVERY MEAL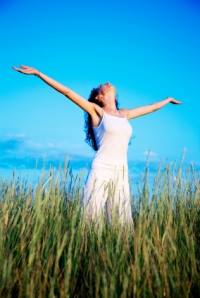 NEWS OF THE DAY:
I've had a few business hiccups this month, that once upon a time I may have viewed as threats to my "happily ever after." But today, I am glad to say, I realize that I am living here and now in happily ever after. I wrote this blessing for my book, Eternal Song, Blessings for the path of Love. It's been very popular in card form, and is advice I try to take myself.
This weekend I will be putting together more "
Happpily Ever After Cards
" to celebrate. I'll send one to the first three folks to
email me
by Midnight Saturday, November 10th.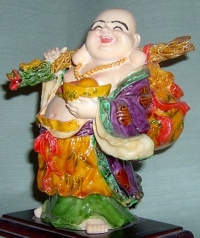 Now let me tell you about the hiccups: firstly, Andrews McMeel is having difficulty placing my books with the larger chains like Barnes and Noble because they require an isbn sticker on the back cover (inside will not do.)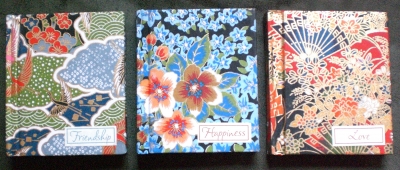 Is this a threat to sales...and my happily ever after? Yes and no. You can still buy the books here, and at your local friendly non-corporate bookstore. And soon the sticker problem will be solved. I've volunteered to put the stickers on myself, and have friends who have offered to help if they take me up on it. How cool is that? In the meantime... I breathe.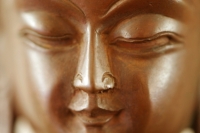 NECTAR:
Be content with what you have;
rejoice in the way things are.
When you realize there is nothing lacking,
the whole world belongs to you.
~Lao Tzu
Content makes poor men rich;
Discontent makes rich men poor.
~Benjamin Franklin
With gratitude arises an atmosphere
of happiness~a cheerful optimism.
When we are grateful, we are giving
attention to a world that is radiant with
blessings and worthy of our noitce.
~Ingrid Goff-Maidoff
A thankful person is thankful under all circumstances.
A complaining soul complains even if he lives in paradise.
~BAHA'U'LLAH
The above bits of wisdom are excerpted from my quote book Happiness, from Andrews McMeel.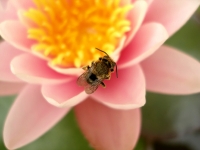 I have been very busy and happy in the studio creating books and gifts for the holiday artisan shows. Do come visit me at the New Ag Hall, Friday and Saturday 10-4 Thanksgiving Weekend.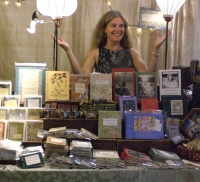 NEW...an RSS FEED...Go Here to Sign up...
Would you like to send a comment? Click Here!