Hotai!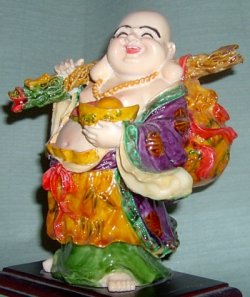 The Laughing Buddha, also known as Hotai, was a monk who wandered China more than a thousand years ago, carrying his possessions in a sack. Legend has it that he gave presents to children, was always good natured, and that he was able to take sadness away from people.
Perry Garfinkle, in his book,
Buddha or Bust
, writes, "The Laughing Buddha has become a deity of contentment and abundance...The cloth linen sack, (which never empties) is filled with many precious items, including rice plants (indicating wealth), candy for children, food for the woes of the world. His exposed potbellied stomach symbolizes happiness, good luck, and plenitude. The begging bowl, also often seen with him, represents his Buddhist nature." p. 179
This jolly fellow reminds me of Santa Claus, and I've often wondered if he inspired those first artist renderings of that holiday gift giver. Hotai also reminds me that I too carry a linen sack, albeit invisible, and I offer the world its contents.
We all have such a container as Hotai's which can never be emptied. There are certain items in this splendid pouch which are always there, although we forget from time to time. Among these are: goodwill, love, compassion, and the spark of the Divine in us all. We didn't pack these into the sack ourselves- they were always there. Sometimes its good to open the sack and take a peek again at its contents.
This invisible sack, the one that can never be emptied: It is full of gifts for you.
Peace to you, friends, peace & love & happiness & plenty & gratitude & wholeness &&&...Oh my, they're all in there!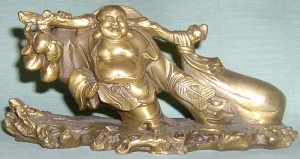 Ho Ho Ho!