Winter wood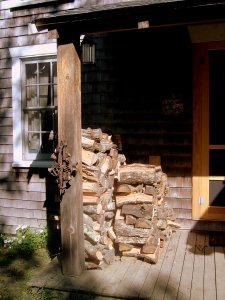 I like to be nearby
while you chop our winter wood.
I like to hoot when, with a good stroke,
a log splits clean.
You stand tall, body lengthened by the axe swing,
amused by my cheerleading ~
superfluous, I know, but I applaud you anyway.
We are a good team, you and I.
You split, Zen-like.
I stack wabi-sabi,
arranging the pile with carefree imperfection.
You eye my sloppy work,
I see you choosing not to suggest a change.
Some things don't really matter.
We will soon enough take the pile down,
crusty log by crusty log,
dashing out through the cold,
filling our arms, returning
to the warm hearth we keep inside.

~Ingrid Goff-Maidoff
from What Holds Us