Tending joy volume 01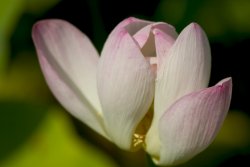 Ingrid's web-journal

In these posts I celebrate the life of
Joy & Love & Peace & Plenty
I share with Jonah, Rose,
and Isabella~ on the beautiful island of
Martha's Vineyard
where we are so blessed to live...
~~~~~~~~~~~~~~~~~~~~~
You carry all the ingredients
to turn your existence into joy.
Mix them, Mix them!
~Hafiz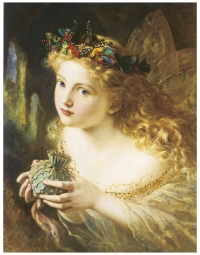 Isn't this a lovely image for the holidays?
I've been impressed with the thought of late that this is the season of the inner child...and that to celebrate with this in mind will tip the scales away from the compulsion of perfectionism to the spirit of JOY.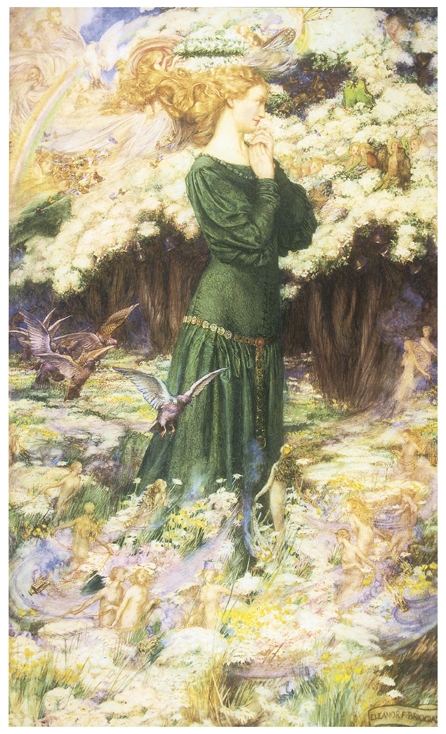 The Lover's World, by Eleanor Fortescue-Brickdale, 1905
From this picture I could pull a thousand words~
words of love and light,
rainbows, spirits, and Joy;
The splendor of possibility,
the ecstasy of being alive,
and the gift of an open heart,
a loving imagination,
eyes that see the good in people and things, and
an enchanted and happy life.
~Ingrid Dec 2006

What does it mean to Tend Joy?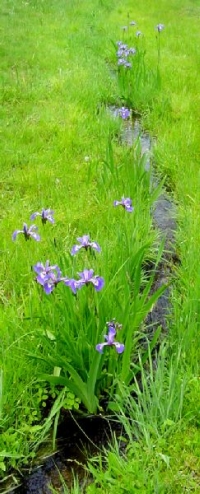 Tending Joy is a leaning toward the Divine Energy of Love, a reaching toward all that is, the way a flower leans toward the sun. It is also a journey within. When we wake up to the truth of ourselves, our inner nature, our very own divinity, we feel a joy that spreads in peaceful and exuberant waves through every inch of us; every inch, limb and pore.
Tending Joy implies slowing down to appreciate and savor the sacred found in living every day. This includes what we eat for breakfast, quiet time for contemplation, our disposition at work and with our family...Tending Joy brings us into oneness. We can touch this joy, breathe it, admire and create it, share it and rejoice in it. Tending Joy leads us to our own infinite and eternal Holiness; the spark within us that adds to the light of the world.
MY HUMBLE DISCLAIMER:
I'm still learning, and I'm glad for it. I will always be a student, humble before the feet of Life. I cannot claim anything more than great enthusiasm for the subject of Joy. My feeling is that if it is true that what we focus on has a large influence upon the flavor of our lives, then I want to focus on such things as Joy, Love, Learning, Peace and Plenty.
I've noticed that there is a big emphasis on claiming "expert status" these days, but I feel in my deepest most honest humanity that I can only claim an ENTHUSIAST's status- or that of an amateur or lover. This feels most alive and exuberant and free. I love the subject of joy, Spiritual Joy (the divine spark in all of us). I hope to always remain an artist and a poet and a friend, sharing my enthusiasm. There are glimpses of life's radiance, but I can't make any wild guru claims. I am now and hope to always be growing in my own knowledge and experience. I am enjoying the Journey. I'm glad for it, and I'm glad to be sharing it with you.
xoxo, Ingrid
~~~~~~~~~~~~~~~~
HERE!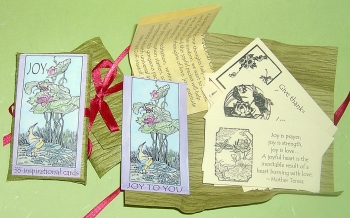 I've created a beautiful
deck of Joy cards.
I'm in love with them! And people bought lots and lots at the last Artisan shows- this is always reaffirming.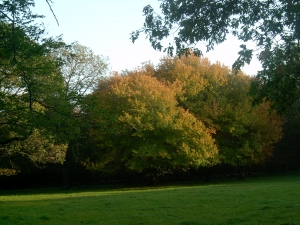 The golden leaves of Autumn stir in me both a feeling of agony and ecstasy as I consider the ephemeral and fleeting nature of things...My moods change like the seasons these days. I recently read these words of Buddha, which provide some comfort, guidance, and poetic inspiration:
Like a shooting star, a mirage, a flame,
A magic trick, a dewdrop, a water bubble,
Like a dream, lightening, or a cloud~
Consider all things thus.
~~~~~~~~~~~~~~~~~~~~~~~~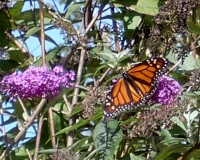 Today I long to,
like the Monarch,
dance nimbly on Life's outstretched palm.
Today I long
for transformation
into nectar
into honey
into light.
~Ingrid, ~Oct 19
I know by autumn's wizardry
On such a day the world can be
Only a great glad dream for me--
Only a great glad dream for me!

Eleanor Myers Jewett,
An Autumn Day
sent to me by Chantal from Ireland. Thanks so much!

~~~~~~~~~~~~~~~~~~~~~~~~~~~~~~~~~~~~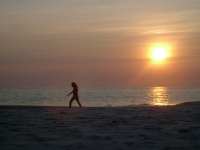 This just in:
"We have every reason to look forward into the future with hope and
excitement. Fear nothing and no one. Work honestly. Be good, be
happy. And remember that each of you is unique, your soul your own,
irreplaceable, and individual in the miracle of your mortal frame."
~ Pearl S. Buck
I subscribed to this daily inspirational blessing quite a few months ago, and I enjoy receiving these thoughtful messages. If you want to subscribe, you can go here:
http://www.mayyoubeblessedmovie.com/today.html
~~~~~~~~~~~~~~~~~~~~~~~~~~~~~~~~~~~`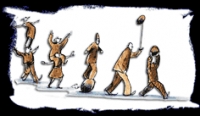 We went to see Corteo, and it was the most fabulous and fulfilling, beautiful and uplifting spectacle. Go, if you ever have the chance!
THIS LINK
will take you to their website, and you can watch a clip of circus angels, acrobats, and a man riding a bicycle through the sky...
We're going to the Circus!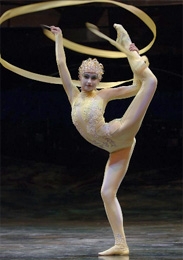 We are so excited! We are going to see the Cirque Du Soleil!
~~~~~~~~~~~~~~~~~~~~~~~
Today I created a
STUDIO TOUR
. What fun!
10/11/06
~~~~~~~~~~~~~~~~~~~~~~~~~~~~~~~~~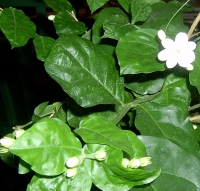 The Jasmine is blooming in our living room today, filling the air with heady fragrance. I'm cooking up a way to share it. Maybe I'll give away some
Jasmine Neroli perfume
in the next Portions Of Joy Newsletter.
~~~~~~~~~~~~~~~~~~~~~~~~~~~~~~~~~~~~~~~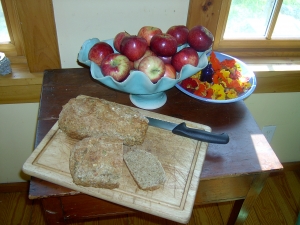 The Sweetness
Last night, while the girls and I snuggled in,
My Love made two loaves of oatmeal bread.
He added pumpkin seeds, sunflowers, honey and molasses…
Warm sweetness wafted up and lingered
all around us in our beds.
The moon cast full sheets of brightness,
A cat mewed on the roof to come in.
I felt so blessed and restless,
After rising, I could not sleep again.
In the morning, Love took out feed to the chickens,
And, palm outstretched, triumphed back through the door.
A red raspberry each for us to savor.
Next year, he grinned, as if this sweetness could increase,
Next year there will be even more.
~Ingrid Goff-Maidoff, October 10th 2006
~~~~~~~~~~~~~~~~~~~~~~~~~~~~~~~~~~~~~~~~~~~~~~~~~~~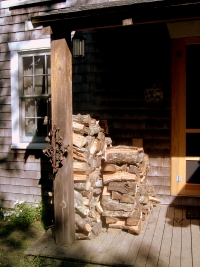 We played woodpile this weekend, the way the children play house. I think sometimes it helps us to approach our chores with an attitude of play~ less drudge and more joy. Jonah wore his chaps and chain-sawed fallen trees while I threw the logs into the wheelbarrow. We have much foraging to do before the winter snows us in, but it is too early to feel daunted. I love a woodpile the way I love a well-stocked pantry, pumpkin pie for breakfast and hot evening baths....

~October 9, 2006
I wrote a
POEM for Jonah
last year, inspired by winter wood.
~~~~~~~~~~~~~~~~~~~~~~~~~~~~~~~~~~~~~~~~~~~~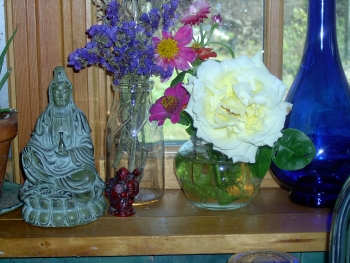 <!--[endif]-->
The last rose from the autumn garden joins the kitchen sink window sill.
~October7th 2006
~~~~~~~~~~~~~~~~~~~~~~~~~~~~~~~~~~~~~~~~~~~~~~~~~~~~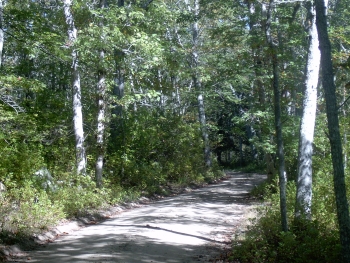 The road home........
~~~~~~~~~~~~~~~~~~~~~~~~~~~~~~~~~~~~~~~~~~~~~~~~~~~