Motherhood as a spiritual path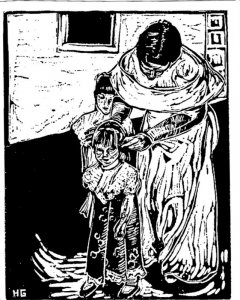 by Ingrid Goff-Maidoff
from Good Mother, Welcome

Author's Notes
for the third edition
Good Mother, Welcome
We are glad you are among us
With this book, I hope to celebrate and embrace the time in a woman's life that I call the Mothering Season. This is a chapter in life that is hugely challenging and rewarding. There is a tremendous opportunity for growth, for pleasure, for compromise, and for gain. It is a season best spent in the good company of others.
I have taken the liberty to sign these pages "The Motherhood." It is my belief that when we welcome each other as a collective, the collective consciousness will strengthen and grow, and our bonds with each other will deepen. There is a transforming power inherent in such a Motherhood. Motherhood is, after all, a society of women who have grown confident and wise through our experiences. As we share our experiences, our enthusiasm, and our encouragement with each other, we will move from a position of fear and judgment, to one of love and belonging.
Imagine a gathering of women coming together shortly after the birth of a child, coming together to honor the new mother. They come to speak words of encouragement, healing, and transformation. They may not know her well, but they know that she is a mother now. This calls for a ceremony, perhaps simpler, (but no less significant,) than a wedding, Christening, Bat Mitzvah, or college graduation.
We will come bearing gifts, flowers, and succulent foods for her body. We will come bearing our hearts, our intellect, and our deepening sense of the divine. She must know that she now belongs to a society of visionaries, nurturers, and caregivers, (not just harried and overwhelmed laundresses, kitchen workers, chauffeurs, and future targets of our children's analysts.)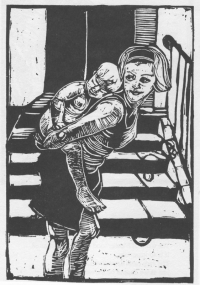 So much goes unsaid in this day. Even the term "good mother" can fill us with dread. We become afraid of perfectionism, of failure, of judgement, and of unrealistic ideals. Still, I believe that as mothers we may have ideals. We may have hopes, and it is healthy to express them.
The truths we repeat are the ones that come to bear most on our lives. If we reclaim motherhood as a spiritual path, if we re-invest it with the value it inherently holds, the benefits we and our children reap will be beyond description.
Blessings to all of you in your Mothering Seasons,
In Love and Peace,
Ingrid Goff-Maidoff
TO PURCHASE GOOD MOTHER WELCOME, CLICK HERE
For more excerpts, refer back to Mothering Joy, or the blessings section of the site.
~~~~~~~~~~~~~~~~~~~~~~~~~~~~~~~~~~~~