Simple graces for every meal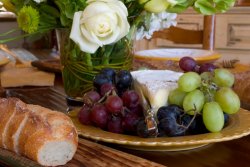 by Ingrid Goff-Maidoff

Ingrid Goff-Maidoff penned these graces
for the comfort of mixed company.
They are written with language that is
accessible to all, with an emphasis on
compassion and gratitude.
If we partake of the meal now before us
with reverent and grateful hearts,
not only will our bodies be sustained
but our souls also.
~~~~
Let the depth of our compassion
nourish all we meet
just as the bounty at this table
nourishes us.
~~~~~~~~~~~~~~
In our highest hopes
we see that the world is
one great family:
where it is possible that none go hungry,
where it is possible that justice, love, and health abound,
where it is possible that we may
never question our oneness.
TO VISIT THE SIMPLE GRACES BOOK ORDER PAGE, CLICK HERE
~~~~~~~~~~~~~~~~~~~~~~~~~~~~~~~~~~~~~~~~~~~~~~~~~~~~~~~~~~~~~~