The wind and the waves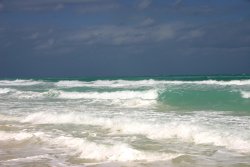 by Ingrid Goff-Maidoff
from One Thousand Evenings More

The wind and waves are mad lovers today,
Unashamed, shivering for all to see.
Slate silver mountains merge, triumph and sway,
Silken curves shudder to union then flee.
Fleet fingers pull against soft sheeted shore,
Turn and return pitching white crested froth,
Linger a moment, then slip back once more,
Mighty crescendos do hallow their troth!
In restless tango the ocean's skirts swirl,
No-one may witness this dance and be spared.
Beach stones and pebbles applaud in the whirl.
At times I've not looked- or I haven't dared.
These loves are like storms, and then the wind's gone.
The sea herself calms, and mirrors the sun.
from What Holds Us ~~~~~~~~~~~~~~~~~~~~~~~~~~~~~~~~~~~~~~~~~~~~~~~~~~~~~~~~~~
WOULD YOU LIKE TO BE DELIGHTED?
SIGN UP for the PORTIONS OF JOY E~NEWSLETTER
with inspiring articles, ideas, specials and more
Every other Saturday