The infinite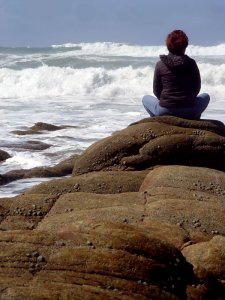 by Ingrid Goff-Maidoff
from the album, Savor the Days

The Infinite
The Infinite is my Beloved,
this ocean is my reminder.
And I've walked this shore restless,
near a thousand times,
my head full of measurements, my soul divided.
The green waves that rush in and back again,
wind in the dune grass, million grains of sand,
crickets at dusk, stars in the night sky,
all call me back to my love.
They sing, "You are not the sum of your suffering,
you are not all that you have done.
you are not even the thoughts that you think.
You and we are one."
I bring my sadness to the sea,
I look to the horizon.
From where I stand to eternity,
everything's so beautiful.
~Ingrid Goff-Maidoff
From the album, Savor The Days
~~~~~~~~~~~~~~~~~~~~~~~~~~~~~~~~~~~~~~~~~~~~~~~~~~~~~~~~
WOULD YOU LIKE TO BE DELIGHTED?
SIGN UP for the PORTIONS OF JOY E~NEWSLETTER
with inspiring articles, ideas, specials and more
Every other Saturday