Fever of forgotten wings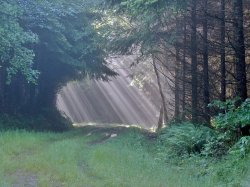 by Ingrid Goff-Maidoff

( title from Poetry, by Pablo Neruda)
And then Poetry came…
And there was no money in it…
Still, some clouds parted
while others grew richer in hue.
The night sky invoked diamonds,
blood, velvet…
The ocean: cascades of sapphire,
seduction,
liquid jade…
Sometimes it was the wind
whispering in the trees,
Sometimes a mosquito's whine,
or a crow
raucous in the compost
at dawn.
There were days I heard everything,
and still days
I could not bring myself to listen.
There were mornings I awoke dissolved
by an apparent parade of dreams…
And afternoons of fever,
when my hair went uncombed,
my pockets overflowed
with paper scraps hastily scrawled,
each word a fragile branch
at the precipitous edge.
It was an exhilarating madness,
fear laced
with ecstasy,
the wings of a schoolgirl's crush.
And I had thought I was alive
before, but saw then
just how shallow
my breathing had been.
From What Holds US ~~~~~~~~~~~~~~~~~~~~~~~~~~~~~~~~~~~~~~~~~~~~~~~~~~~~~~~~