Crescent moon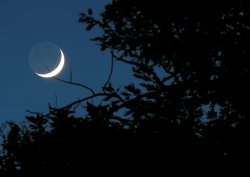 by Ingrid Goff-Maidoff

The other night a crescent moon
hung low like a hammock in the sky.
It wasn't silver, it was gold.
At first, like a fair maid,
I reclined on it and sang.
Later, like the artist's young child,
I cast my line and fished for stars.
Then, seeing it
for the butter and honey delicacy that it was,
pinching off a small crumb,
I ate it.
My memory-body will never be the same.
From Moonlight and Remembrance
~~~~~~~~~~~~~~~~~~~~~~~~~~~~~~~~~~~~~~~~~~~~~~~~~~~~~~~