The meaning of namaste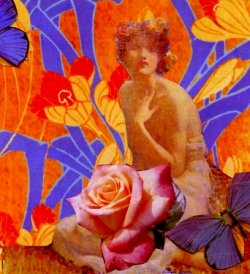 by Ingrid Goff Maidoff
PORTIONS OF JOY NEWSLETTER
Jun 23, 2006
There is a place deep within you
where the whole Universe dwells.
A place of love and beauty,
truth, light and bliss.
Dwelling in this place
feels like coming home...
To visit this peaceful refuge
you need only your awareness.
Seeing this place in others,
you realize all are one...
~Ingrid Goff-Maidoff
~~~~~~~~~~~~~~~~~~~~~~~~~~

THE MEANING OF NAMASTE

(I have been captivated by the idea expressed through "Namaste" for many years now. It has influenced how I raise my children, greet folks on the street, and even my relationship with myself. It has had a profound effect on my writing, inspiring much of The Honey Sutras, as well as Postcards from the Landscape of Joy. This week I created a new card, and a little treasure book, both exploring the term Namaste...)
Namaste (Na-Ma-Stay) is a Yogic greeting which expresses a reverence for the sacred. Namas means "I humbly bow" and te means "to you." In short, when we say "Namaste" we are saying "the Divine in me salutes the Divine in you", or "the spirit in me greets the spirit in you," to the individual or group that we are addressing.
A fuller definition found in the Sanskrit feels like the invitation to an inspired way of being in the world:
I honor the place in you
in which the whole Universe dwells.
I honor the place in you
which is of love, of peace, of beauty and of truth.
When you are in that place in you,
and I am in that place in me,
we are one.
The expression Namaste is often accompanied by a "mudras", or gesture in which one brings the hands together prayerfully and bows. The right hand is said to represent the realm of the spirit, and the left the body. Bringing the palms together in front of the heart or third eye indicates that one is offering oneself fully.

In his book, "Present Moment, Wonderful Moment", Thich Nhat Hanh suggests that with this hand gesture we imagine that we are offering a lotus, or a fresh flower. He bows and gives a silent greeting, "a lotus for you, Buddha to be." If a lotus feels too foreign, he suggests imagining that you are offering a tulip.

Even if we are shy to use words or gestures that feel unfamiliar, we might still allow the reverence behind "Namaste" to influence how we live in the world. However we interact, it is refreshing and pleasant to slow down, pause, and take the time to be in each other's true presence: that place where the whole universe dwells.
"Out beyond ideas," said the Sufi poet, Rumi, "out beyond ideas of wrongdoing and right-doing, there is a field. I'll meet you there."
Namaste.
~~~~~~~~~~~~~~~~~~~~~~~~~~~~~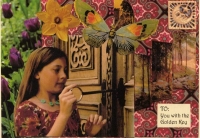 PORTIONS OF JOY
For behind all seen things lies something vaster;
everything is but a path, a portal, or a window opening
on something more than itself.
~Antione de Saint-Exupery
The soul is here for its own joy.
~Rumi
When you know who you truly are,
there is an abiding alive sense of peace.
You could call it joy because that's what joy is:
vibrantly alive peace. It is the joy of knowing yourself
as the very life essence before life takes on form.
That is the joy of Being- of being who you truly are.
~Eckhart Tolle, Stillness Speaks
From Joy I came.
For Joy I live.
And in Sacred Joy
I shall melt again.
~Yogananda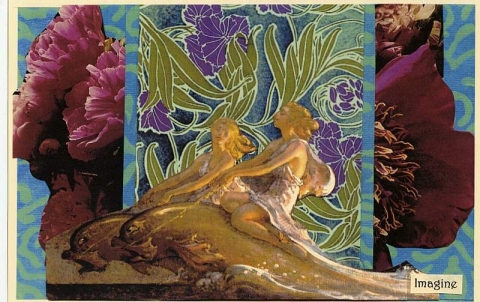 These illustrations are from POSTCARDS FROM THE LANDSCAPE OF JOY, exploring the peaceful refuge within you.
~~~~~~~~~~~~~~~~~~~~~~~~~~~~~~~~
~~~~~~~~~~~~~~~~~~~~~