>
Back
Joy Tender's Gifting Cards ~$free! my gift to you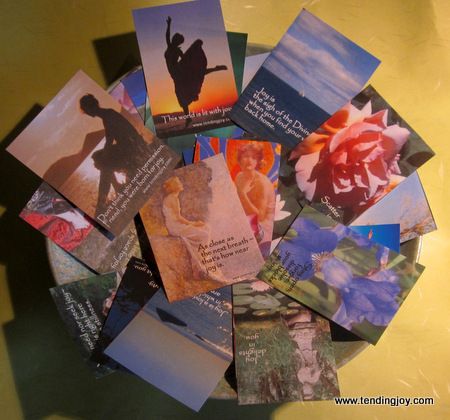 Joy Tender's Gifting cards celebrate the presence and the practice of joy. They are a digital download pdf containing 30 inspiring cards to print, cut and keep by your altar, bedside, or desk for a pick-me-up reflection, or share with clients and send to friends. Joy Cards are a sweet tone-setter for retreats, creating an atmosphere of beauty, optimism, possibility and calm. Tuck them into correspondence; put them on your vision board; scatter joy about your home and community. Leave them in surprising places....These are beautiful reminders of love and belonging to help focus your intention and tune the heart and mind to joy.
Average size: 2 by 3 inches.
These are one of many free gifts when you sign up for my Joy Postcards email list.
---