>
Back
MotheringJoy Bundle $30.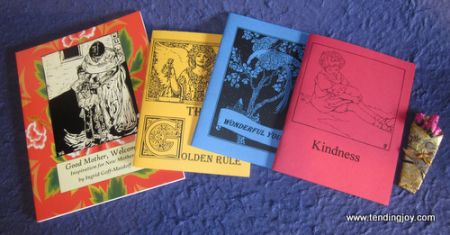 The MotheringJoy Bundle is a lovingly wrapped selection of the book Good Mother Welcome,as well as the children's primers: Kindness, The Golden Rule, and Wonderful you. Also included is a miniature bouquet of paper flowers.
---
About Good Mother, Welcome:
"Ingrid sent this to me when Ostara was still a wee babe.
It was another one I sobbed over, creased up, and clutched to my heart.
It's a love letter from the world to mothers.
Tremendously reassuring, loving, kind and soft.
Just what we need.
I can see why this book gets bought in the dozens to be sent as gifts to new mamas. It is truly remarkable." ~Goddess Leonie Dawson
Click Here for the Good Mother Welcome product Detail Page.